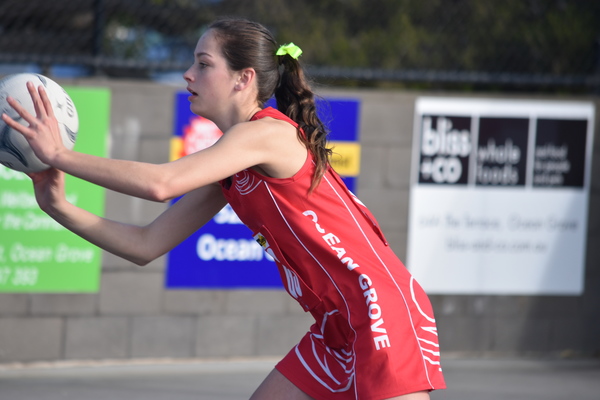 by Emma Badrock
It was a very successful morning for the junior netballers, coming away with six very convincing wins.
Round 16 vs Modewarre
17/1 – Ocean Grove 40 def Modewarre 27
Ocean Grove started the game with the upper hand but Modewarre worked hard in the second quarter, scoring the same amount of goals as the Grubbers to keep themselves in the game. After half time, Ocean Grove really stepped it up and proved that they were the better side, taking the win by 13.
Best: Zoe Murrells, Jessie Allen, Isabelle Teague
17/2 – Ocean Grove 30 def Modewarre 13
A nice easy win as Ocean Grove (2nd) took on Modewarre (7th). It was a good chance for the U17/2 girls to build as a team and prepare themselves for finals in two weeks time. A good effort from all players.
Best: Jorja Connellan
15/1 – Ocean Grove 60 def Modewarre 9
It was a convincing win for the U15/1s this week. They combined nicely together to dominate all areas of the court, keeping Modewarre's score and possessions low. It was a good percentage booster for the girls who are currently sitting 2nd on the ladder.
Best: Jordan Coad, Abbey Stanic, Annabelle Soppitt
15/2 – Ocean Grove 31 def Barwon Heads 6
The game got off to a very slow start in the early morning as Ocean Grove remained scoreless to Barwon Heads 1. They managed to get things sorted out at quarter time and came out hard, showing that they can really play as a team. Their score then continued to increase as the game went on before taking a big win.
Best: Not Supplied
13/1 – Ocean Grove 29 def Modewarre 4
It was a good confidence booster for the U13 girls as they proved to themselves that they can play well together and take home a big win. They started out very strong scoring seven goals to Modewarre's none and their lead then continued to grow from there.
Best: Not Supplied
13/2 – Ocean Grove 22 def Modewarre 8
It was a strong win for the U13/2s this week as they faced up against Modda, who are sitting quite a few ranks below them on the ladder. The girls played a great attacking and defensive game, keeping the ball out of Modewarre's hands and instead putting through their own goal ring.
Best: Georgie Connolly, Zoe Hildebrandt, Marnea Tot
Round 15 vs Torquay
13/1 – Ocean Grove 14 def by Torquay 17
It was a fantastic game played by our under 13/1s against Torquay this week. They all played their role in the team and managed to stay right on Torquay's heels the whole time. Although they didn't end up taking the win, they decreased their margin by 20 goals from last time they took on Torquay.
Best: Not Supplied
13/2 – Ocean Grove 13 def by Torquay 27
Another top of the table clash as Torquay (1st) took on Ocean Grove (2nd). Grove put out a fight but unfortunately for them, Torquay was just too strong, proving that they deserve to be first. It was a great turnaround from last time they played, with Ocean Grove decreasing the margin by 16 goals.
Best: Tylah Foley, Ella McGlynn, Maya Hamilton
15/1 – Ocean Grove 24 def by Torquay 25
It was a great game to watch as the two top teams of the ladder battled against each other. It was a very even match and both sides took turns taking the lead. Grove put out a hard fight right up until the end but unfortunately they couldn't quite scrape the win in the final moments of the game.
Best: Abbey Stanic, Amelia Cunningham, Charli Duckett
15/2 – Ocean Grove 17 def by Torquay 18
It was an extremely close match between 2nd and 3rd on the ladder in the U15/2s. Both teams gave it their everything and fought hard throughout all four quarters. Unfortunately Torquay just came out on top but it was a great effort from all Ocean Grove players.
Best: Not Supplied
17/1 – Ocean Grove 22 def Torquay 12
Another win under the belt for the 17/1s against Torquay this week. Torquay came out and played a lot stronger than last time they faced up but Grove still managed to stay in control of the game and take the win.
Best: Not Supplied
17/2 – Ocean Grove 21 def Torquay 9
It was a good win for the U17/2s as they took on one of their competitors in the top four of the ladder. They played well and were able to maintain a similar margin to last time they faced up against Torquay. There were some great efforts particularly by the defensive and mid court players to contribute to the win.
Best: Sophie Franken, Monet New, Jorja Connellan