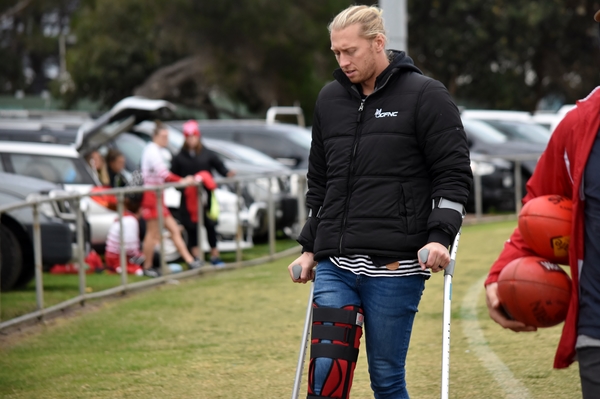 By Mark Heenan
Injured Ocean Grove coach Jordan Jones admits his long-term playing future remains uncertain.
Jones, who turns 29 in June, had knee surgery in May after he ruptured his meniscus in April after the Grubbers' loss to Queenscliff in Round 3.
The first-year Grubber coach confirmed not playing football on the advice of his surgeon was an option.
Jones only managed to play two senior matches for Ocean Grove in 2019 in Round 1 and Round 3.
"It is something he (the surgeon) did mention just with the risk of having this type of surgery," Jones told the Voice.
"It is one of many options."
Currently he is unable to drive a car and is not working during the week and he can't put weight on his injured right knee for up to six weeks.
Jones concedes he will have to make a tough call on his playing future at season's end.
"There are a few things I have got to weigh up at the end of this season," he said.
"I am going to focus on the recovery side of things and we will cross those off as they come by."
Jones, a former Werribee and Williamstown VFL player who played two AFL games with West Coast in 2010, said there would be 'potential risks' with playing again as he recovers from knee surgery.
"It's not a great surgery to have and the surgeon has already advised me that playing football that there is going to be risks with this and injuring the same injury," Jones said.
"On top of that the risks of arthritis and potentially having a knee replacement.
"He (the surgeon) said it was a little bit worse for wear in my knee – that is obviously 12 to 13 years of playing football and a bit of wear and tear."
During Ocean Grove's 82-point victory over Portarlington, Jones was forced to coach the game on crutches and sat on the interchange bench.
Jones said it was uncomfortable to stand on the sidelines and coach for long periods, though he found positives to provide one on one feedback with Grubber players on the interchange bench.
"I had personally didn't want to stand up for two to three hours because I noticed on Tuesday and Thursday nights at footy training my knee swelled up and I didn't want that to happen again," he said.
"There was no issue with the coaching side of things.
"I was probably a little more interactive with the players when they did come off because most of them go and sit down in the dugout so I was able to give (them) direct feedback.
"I thought it worked well."