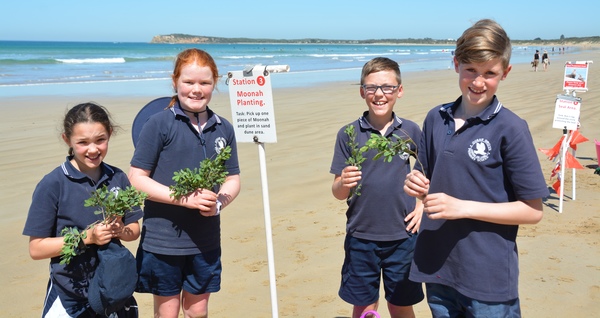 Ocean Grove Primary School Primary School achieved a significant milestone of 10 years of environmental activities at the annual Coastcare Day in Ocean Grove
Year 4 students were treated to activities on Ocean Grove main beach that related to indigenous plant revegetation, a Coastcare challenge game, hooded plover education and litter management.
The sessions were supported by Ocean Grove Coastcare Group and Bellarine Catchment Network.
"Students learn about threatened species protection, dune protection and the school has developed an ongoing relationship with this site with over 1000 students participating in this Coastcare Day over the 10 years," program manager Matt Crawley said.
Managed by Barwon Coast Committee of Management, conservation reserves team leader Brett Diehm said: "over the ten years 2000 plants have been revegetated around the carparks and dunes system. This stabilises the dunes and increases biodiversity".