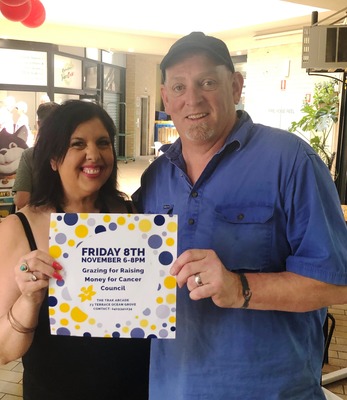 By Justin Flynn
Ocean Grove's Trak Arcade will be transformed into a huge party to raise funds for Cancer Council.
Angela Zaraie, who operates Men's Hairdressing in the arcade, is organising the evening and it's set to be a whole heap of fun.
Local businesses have gotten right behind the night with heaps of silent auction prizes, a grazing table and drinks, including wine and sparkling wine at the front door.
The back door of the arcade will be closed, but the front will be open and tickets are $30, which will all be donated to Cancer Council along with all the proceeds from the silent auction.
Angela's brother Ben will performing on the night.
"At some stage either a friend or family member is affected by cancer," Angela said.
"It's just great to have the unity of people involved.
"Ocean Grove has just been so amazing and so supportive in helping organise this whole thing."
Food will be supplied by Ocean Grove Chicken & Burger Grill, Ocean Grove Pizza, Colling Pin, Ocean Grove Fruit Crew and White Hart Coffee Bar.
The night is on Friday 8 November from 6pm to 8pm.
Tickets at the door on the night or phone 0419-341 234.