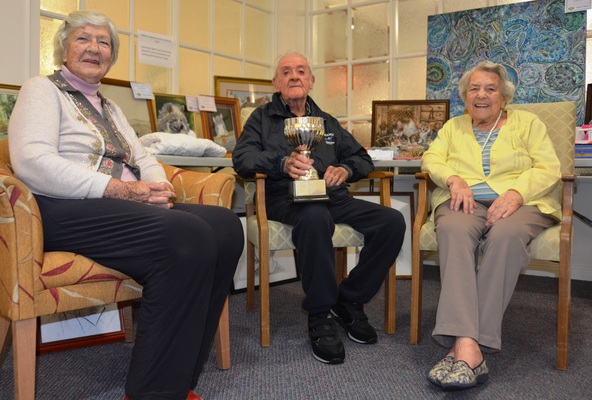 By Justin Flynn
The residents at Homestyle Sea Views Manor aged care have done it again.
After years of trying to win the Bellarine Agricultural Show's Joan Golding OAM perpetual trophy, the talented artists at Sea Views broke the drought in 2017 and have backed it up in 2018.
The Ocean Grove based aged care facility won top prize again in the arts and crafts section.
Hundreds of hours of tender loving care went into the preparation for the show and the results showed.
Sea Views won in a canter, 90 points in front of its nearest rival.
Homestyle Sea Views Manor lifestyle coordinator Glenn Chidzey said many residents were extremely talented artists in their right.
"It's great that they can still contribute to the community," he told the Voice.
"The reward is being recognised as completing the task they set out to do.
"They're very competitive still."
Many of the art pieces, ranging from knitting works, tapestry, needlework and art work were made from memory.
"A lot of the ideas were created from their minds, not from patterns," Mr Chidzey said.
The oldest artwork contributor was 94-year-old Gwen Butcher, but it was a genuine team effort.
The artworks adorn the foyer wall at the facility and it's obvious that the residents are very proud of their consecutive trophies. There are some seriously stunning pieces of artwork.
David Smith's portrait of a possum with an apple particularly caught the eye.
The residents are aiming for a 'three peat' next year and with a real competitive streak, you wouldn't be betting against them getting the job done.