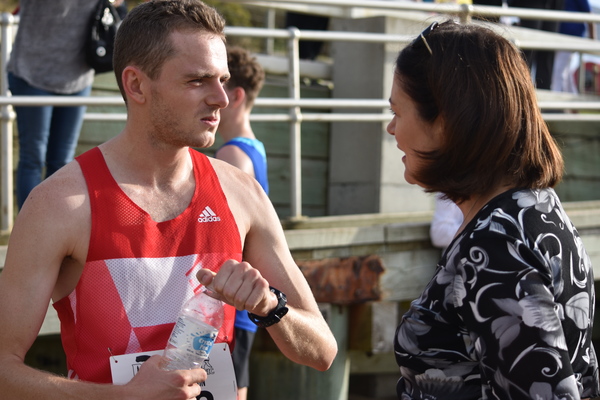 By Mark Heenan
Federal Member for Corangamite Sarah Henderson and State Bellarine MP Lisa Neville have applauded Ocean Grove Surf Life Saving Club's decision to shift the Rip to River Classic to February this summer.
Both Ms Henderson and Ms Neville attended the club's biggest annual fundraiser on 18 February, which is now in its 38th year.
The popular iconic beach run was postponed after extreme heat saw temperatures exceed 40 degrees on 6 January and the race re-scheduled six weeks later.
"The club (Ocean Grove SLSC) did an extraordinary job, it made the right and proper decision to postpone event," Ms Henderson told the Voice.
"It could not have proceeded on a day of 42 degree temperatures.
"While numbers were down on previous years – I think the club did an outstanding job."
Exclusion zones were in place for an endangered hooded plover nesting west of the Ocean Grove SLSC building meant a revamped course was designed for the race.
"The hooded plovers' nests are very important to safeguard and I thought the club did a very good job in just modifying the course so there would be no disturbance," she said.
Ms Neville said the club deserved a lot of credit for organising a new summer Rip to River Classic date which required over a hundred volunteers to assist on the day.
Volunteers included surf patrol, registration and first aid helpers, logistics, canteen and internal communications personnel.
"It is great the club were able to pull it together – It is one of the oldest fun runs in the country," Ms Neville told the Voice.
"It is great position to have it and it is great tradition…it showcases the most popular beach in Victoria."
In further developments works are expected to commence shortly on the multi-million dollar Ocean Grove Surf Beach Complex re-development.
Earlier this month the adjoining and popular Dunes Cafe Restaurant closed its doors after its lease ran out.
Ms Neville expects a start date for building works to be announced once a final tender is awarded.
"We are close to the final tender being awarded and a start date – The idea would be to try and have the building up and running before the (next) Christmas and New Year and the busy period," she said.
The Federal government will contribute $1 million towards the new surf complex precinct, while the State government has offered over $3 million, which includes a construction towards a new patrol tower.
In other news Ms Henderson confirmed the Ocean Grove SLSC would receive a $5000 Beach Safety Equipment grant from the Federal Government.
"This grant provides funding for every surf life saving club around Australia," Ms Henderson said.