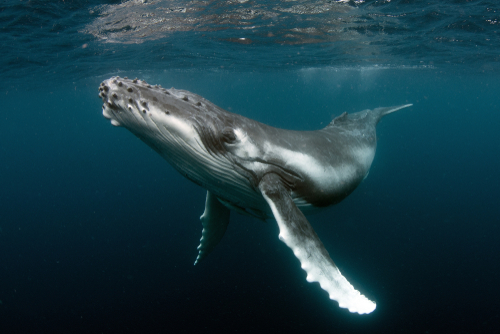 Department of Environment, Land, Water and Planning (DELWP) officers are responding to a whale entanglement off Barwon Heads.
A local fisherman reported seeing a whale entangled in rope this morning.
"Fisheries Victoria are now onsite and have confirmed the sighting of a whale entangled in rope," DELWP Regional Agency Commander David Mifsud said.
"The situation has been declared an emergency, and an Incident Management Team has been established at Colac.
"We believe the whale is a humpback whale. Specialist DELWP staff and Fisheries Victoria personnel have been deployed and the whale is being monitored.
"A helicopter has been engaged to monitor the whale's location from the air.
"The initial plan is to attach a buoy to the whale to assist with tracking the whale.
"We ultimately hope to free the whale by late this afternoon, however, prevailing weather conditions may hinder efforts.
"The safety and welfare of our staff and the whale will remain paramount throughout the operation.
"We will provide updates to the community as the situation progresses.
"Members of the public are urged to stay clear of the whale, for their own safety and for the mammal's welfare."
Whales are protected under the Wildlife Act 1975, and the following minimum distances apply:
Recreational boaters must remain 200 metres from whales
High impact vessels, such as jet skis, must remain 300 metres away from whales
Swimmers must not approach within 50 metres of a whale
Aircraft, including helicopters and drones, are not permitted within 500 vertical metres if the aircraft is operating within a 500-metre radius of a whale.