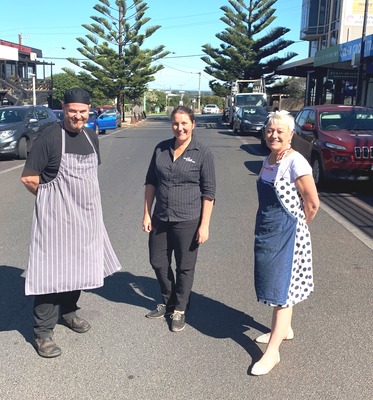 By Justin Flynn
Ocean Grove traders are pleading with Bellarine Peninsula residents to shop locally as the coronavirus, known as COVD-19, takes hold.
After a quieter than usual summer season, local business owners are being hit hard as the virus spreads and forces the closure of events and gatherings.
Tami McAdam runs Piping Hot Chicken & Burger Grill, which has been an Ocean Grove institution for 40 years.
"It's all very well going and raiding the supermarket but we have 20 people that work here and their livelihoods depend upon that and the shop's been here for 40 years and we'd like it to be here for next summer," she said.
"If we don't get support, we won't be open next year.
"We've been sanitising everything and we have a strategy that we may just have to do takeaway and delivery for a 5km radius.
"We'll have plenty of food, our suppliers have plenty. We have plenty of fresh food and will be making salads, burgers and chickens."
Ms McAdam said she had received an order for passionfruit sponges from a group of women who were planning a "happy" small gathering.
"They were having a day where everybody had to tell a really happy story," she said.
"They weren't going to talk about the virus at all – they were going to drink Pimm's and eat passionfruit sponge and just have a happy time."
Ocean Grove Business Association president Ty Simons, who also owns Driftwood Cafe in Ocean Grove, said business across the region had started to slow down weeks ago.
"People out there, the local community, needs to rally behind us if they want us to still be here," he said.
"Come and spend your money, even just a little bit. Phone us, don't go on the internet."
Mr Simons said it was also up to business owners to adapt and innovate and said casual workers could be one to suffer most.
"If we start planning now and budgeting and rostering for it, we can lessen the impact," he said.
"We'll do what we can for them (casuals). We're all in this together.
"We'll get through this, but we have to be smart about it."
Cathy Staehr, from newsXpress in Ocean Grove, urged business owners to check their insurance policies and talk with their landlord.
"The economic impact is terrifying," she said.
"All small businesses in town should go and discuss things with their landlord. Check your insurance policies now.
"We need to be positive and happy in our shops. We're keeping a positive attitude."