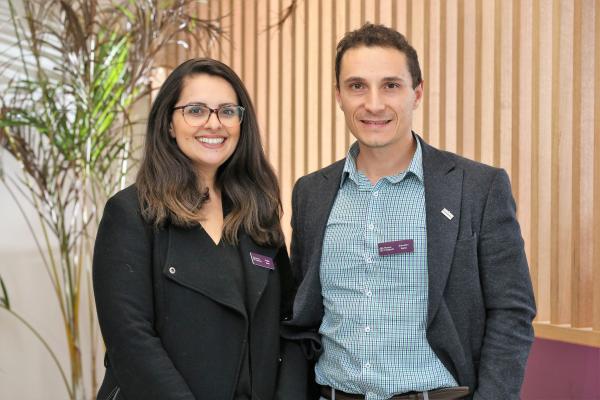 By Justin Flynn
Home Instead Geelong is the 2021 LBW Business + Wealth Advisors Geelong Business Excellence Awards Business of the Year.
Established in 1986 and managed by Geelong Chamber of Commerce, the awards were held last night in a virtual event and recognised organisations that have achieved business excellence in the Geelong region.
Home Instead Geelong's husband and wife team of Giovanni and Giselle Siano started the business and were keen to make a difference to the way that care is provided to seniors.
In less than three years, Home Instead Geelong now employs more than 200 people and delivers more than 12,200 hours of care each month to seniors.
Home Instead won three awards on the night. It also won Emerging Business and Mr Siano won the Young Entrepreneur of the Year.
"I have no words to describe the gratitude and thank you to all the sponsors for tonight for the Geelong Business Excellence Awards and to the Geelong Chamber of Commerce to make this great event happen," Mr Siano said.
"I would like to express my immense gratitude to all my staff to be embarking on this amazing mission that we all share.
"Pushing through the challenges we have gone through the last three years has been an enormous challenge for everyone but we are getting through that."
The overwhelming message from the night can be summed up in one word – 'resilience'.
All award winners and nominees said that although the pandemic presented unique challenges, the resilience of staff and volunteers had shone through.
CentreStage won the Health & Wellbeing Promoting Workplace award and managing director David Greenwood said it was his staff that deserved all the praise.
"I'm very lucky that I've got this most amazing team of staff and volunteers and this really reaffirms that we are in the right direction to support our students," he said.
Lee-Anne Camorra of You're Gorgeous Hair & Beauty, which won the Retail Business award, echoed the theme of resilience.
"My team is just amazing and it just shows the resilience and strength that we have together as a team and we really pulled through," she said..
"It's been one of the toughest years for us both professionally and personally and I'm so, so proud of these guys, they're just amazing."
"It's a huge reflection of what the team have achieved over the past 18 months," Sketch & Etch, which won the Digital Engagement award, CEO Ash Bent said.
"We were sitting in this room 18 months and ago and we were down 80 per cent in revenue and the whole team came together and flipped it around."
A visibly shocked Jessica Anderson of Crew Faced Makeup Artistry, which won the Home-based & Micro Business award, said she was "bloody thrilled".
"My team, you are and continue to be so inspirational," she said.
Business Leader of the Year Frances Diver, who was appointed chief executive at Barwon Health in April 2019, paid tribute to healthcare workers.
"I'd really like to think this award reflects the leadership that Barwon Health has shown over this really difficult period," she said.
"I'd like to accept this award on behalf of all the healthcare workers who have shown so much leadership."
Winners:
Business of the Year (sponsored by LBW Business + Wealth Advisors): Home Instead
Young Entrepreneur of the Year (Deakin University): Giovanni Siano
Sustainable Business Award (Barwon South West Waste & Resource Recovery Group: Kardinia International College
Medium to Large Business or Division/Department of a Business Award (EML): Custom Neon
Innovation, Research & Development (VIVA Energy Australia): FormFlow
Corporate Social Responsibility (genU): Coastyle Building Solutions
Safe & Healthy Business Award (WorkSafe Victoria): Avalon Airport Australia
Inclusive & Accessible Business Award (TAC): Geelong Gallery
Advanced Manufacturing & Industry Award (Geelong Manufacturing Council): Hanlon Industries
Hospitality & Tourism Award (Tourism Greater Geelong & The Bellarine): The 18th Amendment Bar
Emerging Business (The Gordon): Home Instead Geelong
Small Business or Division Department of a Business Award (Bendigo Bank): Cabinets by Computer
Regional Business Award (Gartland Property Services): Adventure Park
Digital Engagement Award (WebForce 5): Sketch & Etch
Customer Service Award (Hardings Hardware): MoPA, Museum of Play and Art
Health & Wellbeing Promoting Workplace (Barwon Health): CentreStage
Home-based & Micro Business Award (City of Greater Geelong): Crew Faced Makeup Artistry
Retail Business Award (Roderick Insurance Brokers): You're Gorgeous Hair & Beauty
Best First Year Entry (Harwood Andrews): Telstra Business Technology Centre Victoria West
Business Leader of the Year (Bay 93.9): Frances Diver, Barwon Health