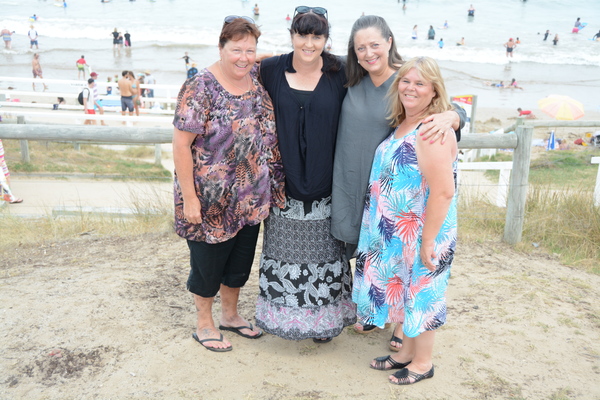 By LUKE VOOGT
BARWON Heads resident Sally Smith last week finally got to thank three brave women, who saved her life just days before Christmas.
The Voice helped track down Ocean Grove's Louise Challis, and Geelong's Shonah Friswell and Donna Larkins, who rescued Sally at Raafs Beach on 18 December.
"They're my three angels," Sally said as she was reunited with the trio at Dunes Cafe last Wednesday.
"I'm incredibly grateful to each one of them – I bet they never swam that fast in their lives."
Shonah, Louise and Donna were chatting in the shallows when they noticed Sally struggling against a rip.
"A little boy tapped my arm and said there's a lady needing help," Louise said.
Shonah was the first in the water and swam towards Sally, before she herself got caught in the rip and was unable to touch the sand.
"I thought oh my God, it's got me," she said.
Aware of the rip, Shonah began to swim diagonally towards Sally, instead of straight towards her.
"I got an arm's length away from her and I could not go any further," she said.
Louise swam between them to bridge the gap and shouted for Sally to lie on her back.
"I came onto a reef so I could sort of touch the ground," Louise said.
The pair then dragged Sally back into the shallows.
As they dived into the water to save Sally, Donna ran back to call triple zero.
"No sense in all three of us bloody drowning," she said.
As Donna rushed to shore to get her phone, some nearby children got the wrong idea.
"I was trying to push my way out of the water and the kids were shouting 'Shark!' " she said.
Louise said the pair "didn't have time to be scared" jumping in after Sally.
"I thought we've got to get this lady out of the water," she said.
Shonah said the emotion of the event didn't hit her until later.
"When I got back to my car I cried and thought what if I had drowned," she said.
"The fear on her face is probably something I'll never forget."
Sally bought each woman a necklace "so they (could) remember what they had done".
She's still searching for the two boys who notified the women in time for them to save her.
She said one was about five years old and named "Oscar", and the other was about 10, with glasses and black hair, likely named "Raj".
"It's lucky those little boys paid attention and let us know," Louise said.