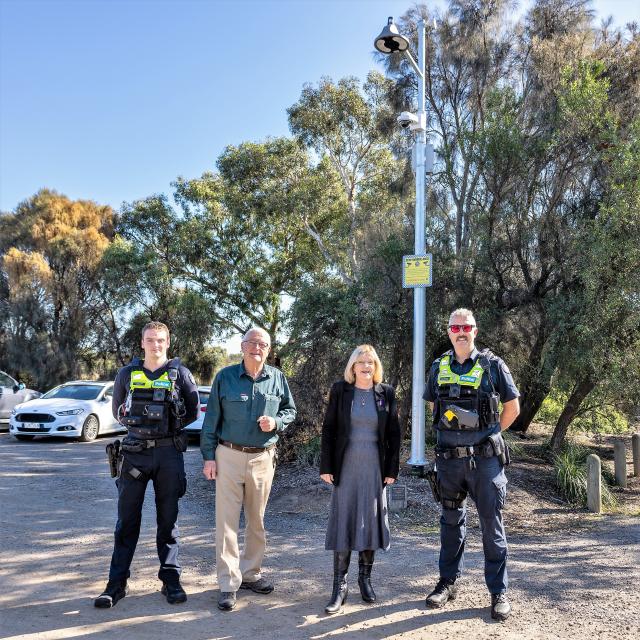 The Leopold community will benefit from the installation of cutting-edge solar-powered lights, smart sensors and CCTV cameras in the town's passive recreational spaces.
The initiative will improve safety along key pathways in Leopold, thanks to a $250,000 Victorian Government Crime Prevention Grant.
Deputy Mayor Trent Sullivan said the innovative project provided an important step in encouraging community members to remain active and engaged.
"Perceptions of community safety, whether they are real or perceived, impact on the way people feel and interact in their community," Cr Sullivan said.
"Community safety is not just about injury and crime prevention; it is about building strong, cohesive, vibrant and active communities."
City of Greater Geelong undertook extensive community engagement before determining that Gateway Sanctuary, the Leopold section of the Bellarine Rail Trail and selected bus stops would be enhanced by the addition of the technology.
Employing technology such as smart lighting infrastructure can reduce energy usage, increase public safety, and act as the 'backbone' for other smart technologies.
The camera systems can create a safer and more secure community by helping to deter anti-social behaviour, assisting with crime investigations, improving safety for evening commuters and providing usage information that is important for active transport and urban space planning.
Bellarine Ward councillor Jim Mason said the initiative would benefit residents and visitors through providing increased peace of mind while enjoying the town's natural environment.
"Improved security has far-reaching benefits, meaning that individuals and families enjoy a sustained quality of life, along with ongoing participation in work, leisure and educational activities," he said.
"The wider community has a lot to gain from having a safer, positive and more productive population, and from less demand being placed on the health care and justice systems."