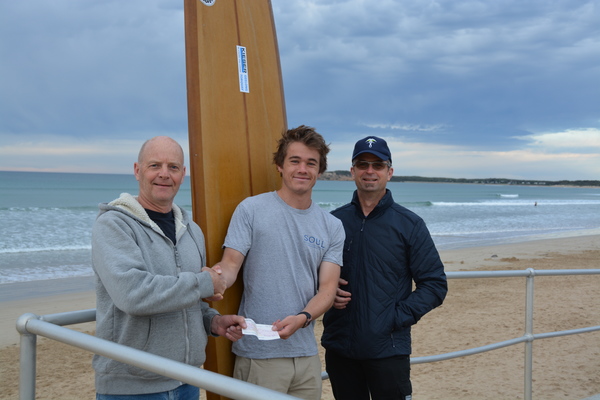 By Justin Flynn
Ben Considine has been surfing with SOUL Longboarders Club since he was eight.
Now the 22-year-old is an established name in the field of longboard surfing.
The Barwon Heads resident was the Australian Logger Champion in 2017 and is has been ranked as high as fourth in the world.
It's a tough juggling act for Ben. Between work and surfing, sometimes it's hard to make ends meet.
As the Voice spoke to Ben he was just days away from travelling to California for an invitational event and SOUL Longboarders Club was there to help out.
The club gave Ben $500 to help with travelling costs and the young surfer was grateful.
"I'm really stoked for this event and it's been hard trying to get to all these events so I've been trying to work lots and SOUL has been really supporting me since I was a young grom coming up," he said.
"Things like this are a pivotal point to whether I can go to these events or not.
"I've still got some photos at home with me and my dad at SOUL when I was a grom, which are quite funny."
SOUL's Andrew Brown and club treasurer Dave Gibson were on hand to present Ben with his cheque.
"It's great to see one of our kids that's come up through SOUL through the ranks," Andrew said.
"It proves how far you can go. Juniors can look at Ben and say well here's a young local who has come this far, I want to do the same."
For Ben, the invitation only Surf Relik event in Trestles, California, was another chance to compete with the best.
"I hope I go well it's a tough field," he said.
"It will be good to match up with these guys again and hopefully get on top of them."
Ben works at Kieser Australia in Torquay, who he says have been very supportive and also sponsored by South Coast surfboards and Rip Curl Australia.