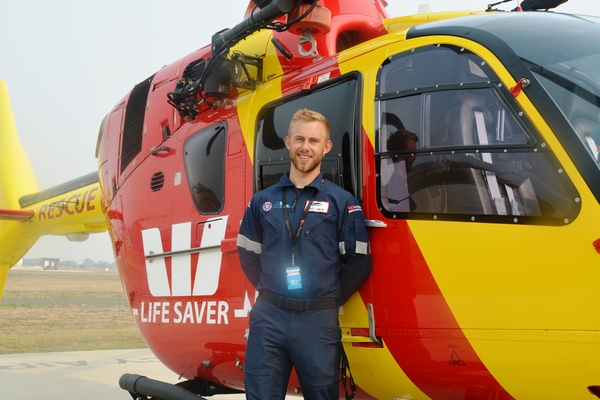 Ocean Grove-based Nick Giblin is one of 11 volunteer crew members on the Westpac Lifesaver Rescue Helicopter Service (WLRHS) to have recently completed full training to operate a new winch.
The new winch capability on the rescue helicopter means the crew can hoist patients back into the helicopter, as well as lower people down onto boats and into difficult to reach areas.
Previously, the rescue helicopter had a static line, so could offer aerial search platforms over land, but couldn't retrieve patients over land or attend tasks further out to sea.
Mr Giblin, 21, joined the helicopter crew at the start of his last year of high school and said it was a lot to juggle with his studies.
"I came to lifesaving at 15 when my mum told me I could only go to the beach and swim by myself if I had my bronze certificate," he said.
"I didn't want to do it, but I ended up loving it. I got involved in summer lifesaving sports carnivals and got all my first aid awards that first summer."
Mr Giblin is now into his fourth season with the WLRHS, as well as studying nursing and paramedicine, alongside coaching the Ocean Grove SLSC Inflatable Rescue Boat team.
During the winch training, Mr Giblin and the other crew members were transitioned from run-throughs with the new gear on the ground to winching practice, progressing to more difficult rescues with the different equipment, such as harness, hypothermic strop or ARS sling.
"The training included winching close to trees and even some cliff walking practice, which I'd never heard of before," he said.
"It's like abseiling, but from a helicopter where you abseil down a cliff and up it, while attached to the helicopter."
The volunteers trained eight-hour days and every shift over summer they have had more training, such as doing a mock beacon search rescue where Mr Giblin was able to winch Bruce Honey, an RWC lifeguard at the Ocean Grove SLSC.
"He'd never been on a helicopter before, so he was close to how a real patient would react to the situation," Mr Giblin said.
"Surprisingly, it's actually pretty comfortable in the winch harness, hanging from the wire – you could sit there all day with no worries at all, not like the static line."