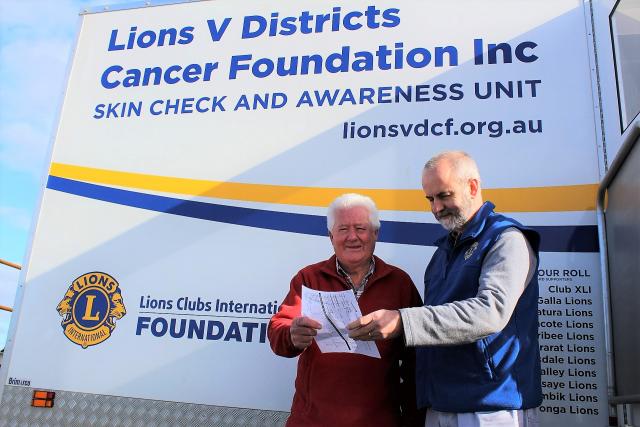 Torquay Lions Club held a successful free skin check day on July 1 and 2.
President Colin Bellis was delighted that many local residents took up the opportunity for a free skin check at Wurdi Baierr Stadium, Torquay.
"When I visited the Lions Skin Check and Awareness Mobile Unit on its first day of operation in Torquay, a number of people had already been advised to make a potentially life-saving appointment with their GP by having a thorough follow up," he said.
"We all need to be concerned about skin cancer, and anyone showing signs of skin changes should have them checked by health professionals.
"Our Lions Mobile Unit is hard-pressed to meet the need in regional Victoria, but we are aiming to bring the mobile unit back to Torquay as soon as we are able."
Locals who attended appointments were checked by trained and certificated volunteers. The Lions team pointed out that many people told them it was a wonderful initiative.
"It's been great to provide people with valuable and timely data about skin care and self-checking techniques," Mr Bellis said.
"Just having the Unit here in Torquay has helped raise the community's awareness.
"It is well-known Australia has one of the highest rates of skin cancer in the world.
"Lions Clubs in Victoria and Southern NSW are working hard to reduce that level and its impact on families, but everyone on the Surf Coast needs to take action."