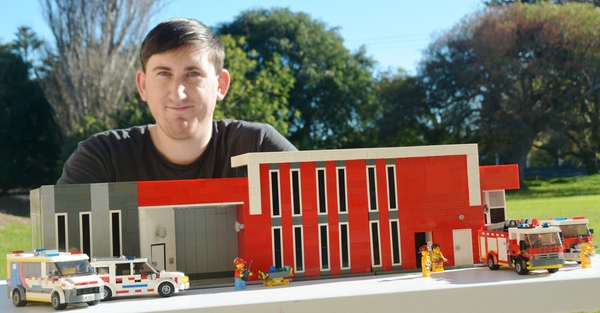 By Justin Flynn
Huw Joyce is fascinated with military and emergency services buildings and vehicles.
The 22-year-old Point Lonsdale nursing student expertly crafts replicas of buildings and vehicles with LEGO and will showcase some of his work at this weekend's Queenscliffe Bricks exhibition.
Huw will exhibit his stunning re-creation of Geelong's fire and ambulance station, which is intricate in its detail.
"I try to get as many features in as possible because it shows the realism of the model," he said.
"When I was an infant, I was building things and as I got older, I got more LEGO parts and just continued building."
It took Huw only about four hours to study the detail the fire and ambulance station and a similar time to construct it.
"You lose track of time when you're building," he said.
"You look at the clock and all of a sudden it's midnight.
"It's a good escape from everyday life."
Queenscliffe Bricks will feature displays, free LEGO giveaways, play zones, competitions, hundreds of dollars worth of prizes and LEGO master classes.
With an Army Cadet background, Huw's interest in military and emergency services vehicles is evident.
"I like showing people that emergency services aren't just the two things you see on the road," he said.
"There are more than 12 different types of ambulances. I try to make it as detailed as possible."
Huw said he gets a kick out of people instantly recognising his constructions.
"Some people go 'is this the Geelong ambulance station?'," he said.
"Some people are shocked when they see it. They're just amazed."
Queenscliffe Bricks is on Saturday and Sunday at Point Lonsdale Primary School hall.