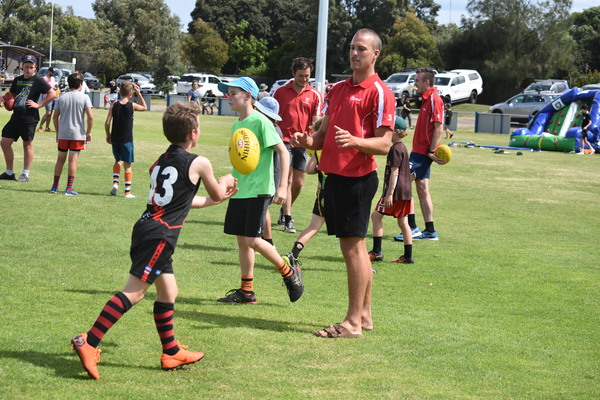 By Mark Heenan
Young Cobra footballers were given valuable footy tips from local senior Grubber players at the Ocean Grove Cobras' Gala day on March 1.
The Gala day attracted more than 500 people and follows the success of last year's club season launch.
The club family day saw many junior Cobra boys and girls footballers attend, along with parents and families, club members, club sponsors and the Cobras' committee.
Ocean Grove Cobras Junior Football Club president Dennis Hateley said it was great to have the Grubbers involved which further strengthened the ties between both clubs.
Up to 10 Grubber footballers and also coaches including senior coach Pete Davey and club fitness and wellbeing manager Dean Casamento ran a series of kicking and handball drills with enthused Cobras.
"It has been our drive for the last number of years to close the gap between the senior and junior club," Hateley said.
"We are considered as one – even though we have got the Cobra banner and they have got the Grubber banner.
"Essentially we are one club.
"For the senior club to come down and support and run through and have a few drills with the kids is great.
"A few of the committee from the senior club were here, which was awesome."
Activities on the day included a jumping castle, a beep test, tug a war and also poison ball games.
THIS season the Cobras will introduce junior girls footy teams for the first time, the Burchell junior girls' team will be sponsored by the Ocean Grove Voice.