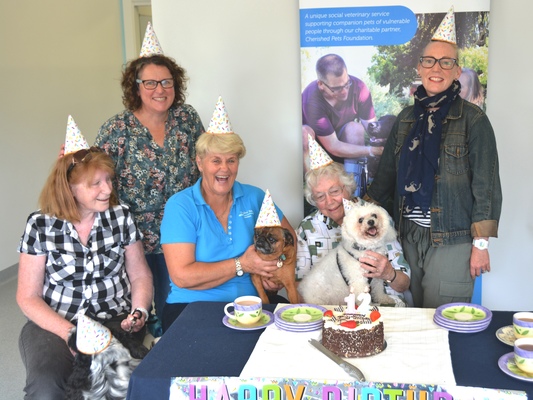 It's difficult to believe that Ocean Grove's much-loved charity Cherished Pets Foundation turns four this month.
In April 2015 the foundation launched its award-winning community pet care project.
Since the launch the foundation has provided assistance to more than 50 eligible elderly and disabled residents living independently in the Bellarine and Geelong communities.
Assistance comes in different forms depending on unique needs, and includes trained volunteers who assist with home pet-care tasks, community vet nurse visits, respite pet care when owners are hospitalised, pet wellness and nutrition program, bereavement support and coordination of veterinary care in the event of a pet becoming unwell.
"With a grand vision of creating a community-centred organisation that enables the benefits of healthy companion pets to be enjoyed by all people, the founding Cherished Pets team is celebrating this milestone and wondering where the time has gone," Cherished Pets Dr Alicia Kennedy said.
One of our original beneficiaries is Daisy the bichon frise and her human, Dawn.
Dawn has been a loving and dedicated recipient of the service and has created beautiful craft and cards for the team to sell at events.
Daisy recently celebrated her 12th birthday at a special party at Cherished Pets Community Hub in Madeley St, Ocean Grove.
"Since opening our pet hub we have been able to grow our general boutique veterinary service for all pets and their people, and coordinate our home care assistance for foundation beneficiaries such as Daisy and Dawn," Dr Kennedy said.
"We also hold regular events and training programs and provide resources to people about healthy living with pets.
"As we celebrate our fourth birthday we would like to thank the Ocean Grove community for being so welcoming and supportive of what we do, and invite everyone to support our continued work through either a donation (www.cherishedpetcare.com.au), using our services, making a bequest, or becoming a volunteer."