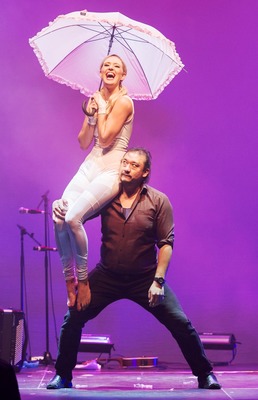 By Justin Flynn
Selfies, hashtags, retweets, online petitions, 'thoughts and prayers' – Anya Anastasia's acclaimed cabaret show pokes some serious fun at our modern day obsession with social media.
Fresh from her 10th appearance at the Adelaide Fringe Festival, Anastasia is bringing her razor-sharp satirical wit in form of The Executioners to the Bellarine Peninsula.
Featuring original music, written by Anastasia, she and her partner in crime Gareth Chin gleefully attack and dismember the perils of living in the modern world, especially social media.
"The Executioners is about the original music and is tongue in cheek and pokes fun at the things we all face in a high-tech world where we consume the news mostly from our phones and try to interact with the world around us from our devices," Anastasia tells the Voice.
"The balance that we have to find with the show every time we perform it, it's a great opportunity to laugh at ourselves and I myself can be a bit of a keyboard warrior and jump on and try and save the world with my 'clicktivism', signing and sharing all the petitions and the never ending self-indulgent photos that I'm sharing.
"But what we come to in the course of this show is that you've got to be forgiven because this is the context of the world we live in."
Coconut water; yoga; climate change; compost; keep cups; politicians – all are targets of Anastasia's satirical wit as she explores the environmental and technological influences on 21st century life.
Clad a la Lady Gaga, in white spandex and platform heels, examining the world today as we know it, Anastasia and Chin launch into a digitally enhanced millennial neo-cabaret.
Anastasia explains that she and Chin were friends long before they worked together.
"I'd often go to his place as he's got a beautiful beaten up old grand piano in his room and I'd go there and work on my songs," she says.
"It was quite hilarious at the start because there was always that natural tension between us because are opposites. He's methodical and I'm hyperactive and fast talking. The contrast there quite hilarious and we ended up putting that on stage."
This will be Anastasia's third appearance at Drysdale's Potato Shed.
"I'm so into those curtains, those drapes, they're gorgeous," she says.
"You can get up close and personal with people there.
"First and foremost we are entertainers so we want everyone to have a good night out and have a good time and come away thinking about and digesting some of the different issues that come up.
"Maybe there will be a bit of inspiration to take further action about something they're thinking about."
The Executioners is at the Potato Shed, Drysdale, on 27 April.