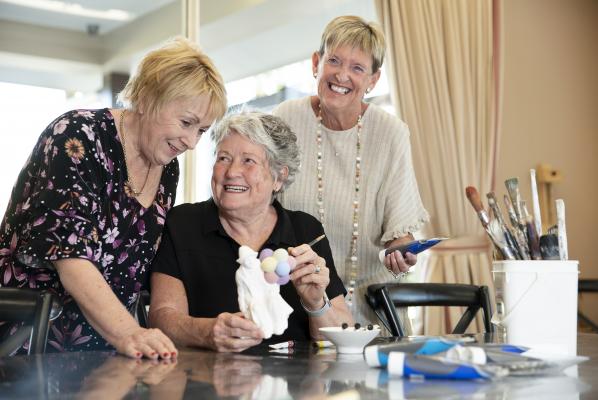 Bellarine Lakes Country Club is continuing to thrive as a popular place for over-55s and retirees. Located close to the beach, seven kilometres from Central Geelong and with its own private golf course, don't miss this opportunity to purchase one of the three newly built villas now available.
Bellarine Lakes offers resort-style living with facilties including a four-rink bowling green, tennis court, hobby workshop, gymnasium, indoor heated swimming pool, outdoor lap pool and the aforementioned private golf course.
There's also a beautifully appointed clubhouse which houses a cinema, a billiard room, craft room, library, medical room, indoor carpet bowls, a club bar, fully-equipped catering kitchen and alfresco dining.
Bellarine Lakes' lifestyle consultant Lisa Duke says that in addition to scheduled monthly events, there are around 30 activity groups offering a diverse range of activities such as cycling, aqua aerobics, fitness, line dancing, walking, wine appreciation, craft and card groups.
"These are simply a few of the wonderful social activities the residents enjoy," Lisa says.
"If you are seeking a sea change and a low-maintenance, quality living environment offering security, social companionship, freedom and lifestyle choices, Bellarine Lakes Country Club may be the lifestyle choice you have been looking for."
Residents Helen and James epitomise the sentiment of many Bellarine Lakes Country Club residents:
"Our decision to retire and make Bellarine Lakes our home has not only given us a beautiful residence but extensive lifestyle choices," they say.
"Our immaculate private golf course allows us to pursue our passion for golf whenever we like as it's in our backyard!
"Downsizing and an easier lifestyle, coupled with the resort-style facilities, including the pool and the gym, have given us much enjoyment.
"We have met many like-minded people, are surrounded by great neighbours and enjoy our many get-togethers.
"We have the best of everything here, including wonderful village managers. We look forward to an amazing future in our thriving community."
To arrange a private tour, please contact Lisa on 0447 495 400.
Bellarine Lakes Country Club, 402 Bellarine Highway, Moolap-Geelong. Inquiries: 0447 495 400 (tours);
1800 255 578; www.bellarinelakes.com.au