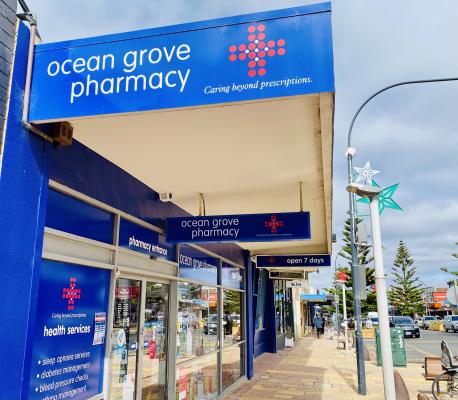 Ocean Grove Terrace Pharmacy has your summer health needs covered, offering a wide variety of products and services for all health, prescription medicines and beauty needs to Ocean Grovers and holiday-makers alike.
The range of products in store is expanding, with an increase to the giftware and fragrance range coming just in time to sort all of your Christmas gifts before Santa arrives.
The vitamin and skincare range is also set to grow in 2021, so keep an eye out for new products.
Locally owned since early 2020, the business has a community heart, focusing on employing local people whenever possible.
Trained and knowledgable professionals are on hand to help customers with all health, product and giftware needs, including offering popular services such as ear piercing in-store.
The friendly team is ready for a busy summer, hoping to see an increase in foot traffic now that restrictions have eased and there's extra space available for food retailers.
And to make it even easier for busy customers to get what they need this festive season, Ocean Grove Terrace Pharmacy has introduced its summer trading hours, opening until 7pm on Friday nights from now until January 22 next year, and also from 10am-2pm on the Boxing Day holidays (Saturday, December 26 and Monday, December 28) and New Year's Day (Friday, January 1).
Ocean Grove Terrace Pharmacy, 76A The Terrace Ocean Grove. Open 9am-5.30pm Monday-Thursday, 9am-7pm Friday, 9am-4pm Saturday and 10am-2pm public holidays. Inquiries: 5255 1331.