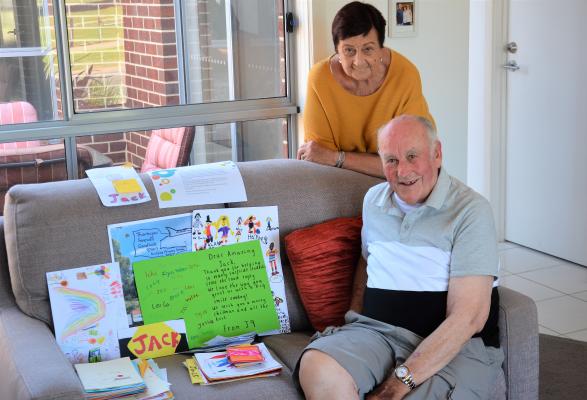 By Justin Flynn
When COVID-19 and illness struck, school crossing supervisor Jack Murphy had to make the heartbreaking decision to stand down after 20 years in the job.
So popular was Jack, pupils from Surfside Primary School penned cards and letters of thanks, totally overwhelming the 85-year-old.
Jack also had students from Our Lady Star of the Sea and Bellarine Secondary College use his crossing, and wants to thank everyone who made his time in the important job so enjoyable.
"It's been the best 20 years of my life being there, without a doubt," he said.
"Every day going there, winter, spring, summer and autumn, it didn't make any difference. It was magnificent."
Jack's two decades at his crossing has resulted in small children growing up and teachers come and go.
"I've seen those kids grow up," he said.
"Yesterday I saw one of the girls down the street pushing a pram.
"I see them on the football field, I go into the fish and chip shops and they serve me. It's great.
"All the parents have been fantastic. You couldn't ask for better people."
Jack, who moved to Ocean Grove 22 years ago with wife Pat, had a long career as a wool classer, wool buyer and wool valuer, which took him all over the country and New Zealand.
But it's been the past 20 years as crossing supervisor that have been the most rewarding he says. He has only missed a handful of days.
"I've seen five principals come and go, dozens of teachers and hundreds of children," he said.
"The school has meant more to me than they will ever know."
Jack wants to thank parents, students and staff from all three schools for their support.
"I wanted to go back but my heart said 'you stupid old fool, you can't do it anymore'," he said.
Despite his illness, which means he can't walk very well, Jack says he is "still pretty fit, that's the mad Irish in me".
"I want to thank everyone – Vicki and Robyn in the office, Leanne and Judy teachers, Geoff Cunningham, miss him immensely I will, talking rubbish about football."