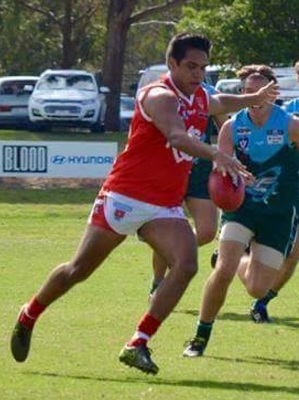 By MARK HEENAN
YOUNG Grubber under-18 Colts' star Mickitja Rotumah-Onus shone in his senior debut despite Ocean Grove's narrow seven-point loss to Modewarre on 16 April.
Rotumah-Onus booted four goals in his first senior match for Ocean Grove at Modewarre's Community Bank Oval.
He played a vital forward role in the absence of Grubber small forward Travis Gavin.
Rotumah-Onus was joined by James Peers, who also made his senior debut for Ocean Grove.
The loss meant the Grubbers fell to sixth place on the BFL senior ladder with a 2-2 record after four rounds.
Final scores Modewarre 10.18 to Ocean Grove 10.11.
On the flipside, Modewarre unveiled new recruit and former Melbourne AFL player Austin Wonaeamirri, who kicked one goal for the home side.
Wonaeamirri, who played 31 AFL games for Melbourne between 2008 and 2011, is expected to play up to six games for the Warriors in 2016.
Grubber player David King kicked three goals, while team-mate Aaron Baxter booted two majors.
BFL SENIORS SCOREBOARD
MODEWARRE 10.18.78
OCEAN GROVE 10.11.71
OCEAN GROVE
Goals: M. Rotumah-Onus 4, D. King 3, A. Baxter 2, M. King.
Best: K. Long, D. King, B. Warren, M. Rotumah-Onus, H. Walker, L. Rock.