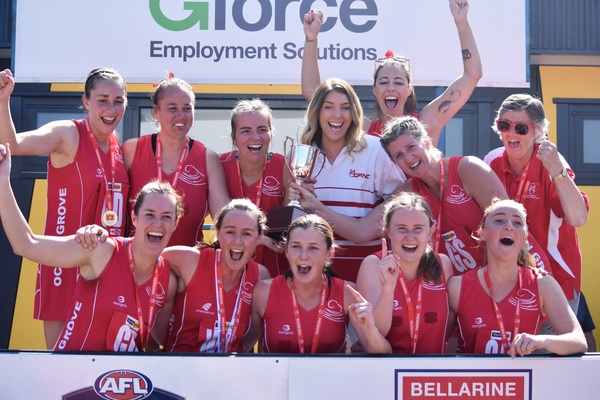 By Mark Heenan
Ocean Grove won back-to-back D Grade titles with victory over Geelong Amateur in their premiership decider at the BFNL grand final day on September 14.
The Grubbers 24 defeated Geelong Amateur 12.
It was Ocean Grove's fourth netball title on BFNL grand final day after three junior club premierships.
Three Grubber D Grade netballers including star goaler Shereen Wolfe, Tamara Splatt and Tarryn Stanley played in last year's grand final win over Torquay in D Grade.
Tamara Splatt who coached the 13 and Under Division 2 side to a premiership and Tarryn Stanley who coached the 15 and Under Division 2 team to a flag had celebrated earlier success in the day.
Ocean Grove took a narrow one-goal lead to be in front with 6 goals to 5 goals at quarter time against the Ammos.
The Grubbers extended their lead at half time to be in front 11-8.
Ocean Grove were great in defence and reduced the Ammos to only four goals in the final half.
The Grubbers scored 13 goals in the final two quarters.
Star Grubber Shereen Wolfe finished with 16 goals, while Lauren Barber scored eight goals.
The best on court medal was awarded to Ocean Grove's Kellie Morrish.
Grubber netballer Tarryn Stanley confirmed her team had been the hunted in 2019 after its 2018 title.
Stanley said star goal attack Maddy Goodger who played in last year's D Grade premiership, did not play due to illness.
"I think the pressure was on us this year to do so, we had four or five girls come down from C Grade," Stanley said.
"I think people expected us to win to be honest.
"We also had one of our starting seven (Maddy Goodger) that did not play and was ill – that was kind of hard to deal with at the start."