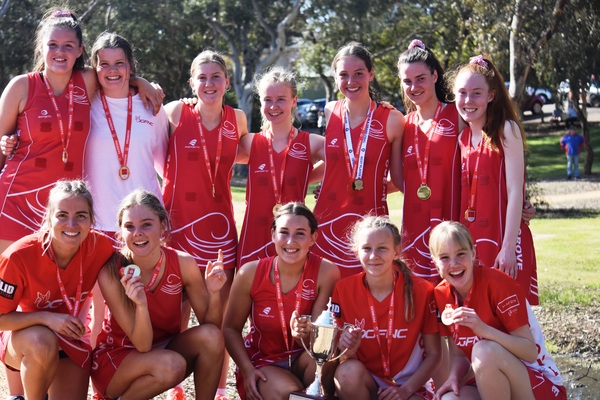 By Mark Heenan
Ocean Grove's 17/Under Division 2 premiership made it a trifecta of junior club titles from three grand final attempts after flag success in 13/Under and 15/Under age groups.
Ocean Grove 27 defeated Geelong Amateur 24.
A few Grubber 17/Under Division 2 premiership netballers also played in the 17/Under Division 2 grand final loss to Portarlington in 2018.
Ocean Grove got off to a flyer and led by five goals at the first break with the score 9-4.
Solid shooting from Amelia Cunningham who shot 17 goals from 24 attempts, saw the Grubbers hold a handy seven-goal buffer at half time.
Team-mate Eliza Vallelonga played a strong all court game especially in defence.
Down by eight goals at three quarter time, the Ammos hit back and outscored the Grubbers 10 goals to five in an exhilarating final term.
Ocean Grove won by three goals in the end.
Both Cunningham and Valllelonga were named in the best.
Amelia Cunningham won the medal for being named best on court.
Ocean Grove 17/Under Division 2 coach Tarryn Stanley, who played in the D Grade flag, said it was a dominant season with only one loss and its top place finish.
"We had a strong season, we only lost one game and in the first final we had a couple of girls who were away so we had to qualify a few 15 and Under girls to play so that was hard determining who would start and who would get on," Stanley said.