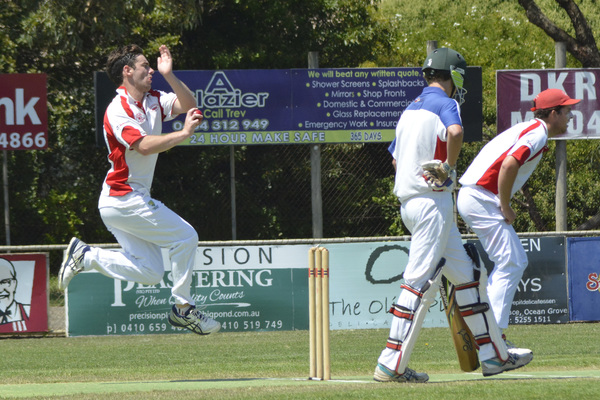 THE Grubbers' A Grade side snapped a four-game losing streak after a resounding 67-run win over Queenscliff.
Defending a competitive 194, Ocean Grove bowled out Queenscliff for 127.
Ocean Grove coach Paul Jubber, who took 3/14 from 10 overs, praised young fast bowling pair Lindon Guiffrida, who claimed 1/25 from 15 overs, and Rob Proctor.
Proctor who chimed in with 2/15 from eight overs, remained 21 not out with the bat on 6 February.
"Guiffrida and Proctor were outstanding with the new ball," Jubber said. "We are delighted with the progress of our emerging players."
The Coutas were in a comfortable position at 3/94, but lost their way and lost 7/33.
Despite Jubber conceding its focus is not playing finals in 2015/16 after Ocean Grove's 3-0 start to season, he said it was important to nurture youth.
"To get games into our emerging players and for them to play is a positive and it is a bonus to win, which is a great result for the club," Jubber said.
On day one, promising Grubber opener Jackson Kent (50) led the way with a half-century.
Kent is the leading Ocean Grove A Grade run scorer this season with his tally of 264 runs at 33, which included two half-centuries.
Ocean Grove batsman Issac Saunders is making the most of an A Grade promotion after his innings of 43, which included six boundaries and one six.
Queenscliff captain Tony Hanafin, who claimed 3/14 from nine overs, was his side's most successful bowler on day one.
Ocean Grove, which has a 4-4 record after nine rounds, faces winless Wallington in a home two-day game on 20 February to wrap up the season.
IN B Grade, Ocean Grove almost pulled off an unlikely outright victory against Anglesea in their two-day game at Anglesea Recreation Reserve.
The Grubbers, who won the toss and batted first, declared at 4/309 from 58 overs on day one.
The Ocean Grove batting quartet of Rhys Sheather (78), Pat Kuipers (79), Corey Buxton (61) and Adam Spiby (50 not out) all made valuable half-centuries.
In reply, Anglesea was all out for 74 from 33.1 overs in its first innings. In its second dig, the home side finished at 8/113 from 52 overs as the Grubbers strode to an easy victory on their first innings.
Young Ocean Grove fast bowler Ned Thorley ended with match figures of 5/34 from 14.1 overs and 0/26.
Ocean Grove won by six wickets in their two-day C Grade clash against Barrabool 2 at Shell Road Recreation Reserve.
Batting first Barrabool 2 was all out for 137 from 58.4 overs, while in reply the Grubbers finished at 4/140. Grubber medium pace bowler Steve Cramer finished with 3/17 from eight overs, while Alan Bate, Marcus Wirth and Pat McMahon all took two wickets apiece.
The home was well led by Jake Taylor (28) and Pat McMahon (49) with the bat.
A Sparkling unbeaten hundred from Grubber opener Troy Wiseman was not enough for his side to post a victory over finals contender Newcomb in their D Grade one-day game at Erwin Reserve.
Batting first Ocean Grove made 4/233 from its 40 overs. Wiseman, who also claimed 2/46 with the ball, hit 20 boundaries in his whirlwind innings of 103 not out.
Wiseman has hit a purple patch in recent weeks with the bat after he struck 90 in the Grubbers' one-day 95-run victory against St Leonard's 1 on 6 February.
Mark Hyland (54) smashed a half-century and hit two sixes and eight boundaries. In reply, the home side won with nine overs to spare after Newcomb finished 3/236 from 31 overs.