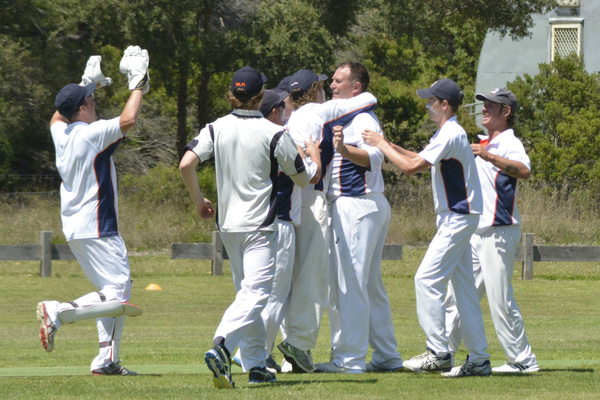 By MARK HEENAN
IN-FORM Collendina booked a BPCA A Grade finals berth following an impressive 91-run away win over Barwon Heads.
Cobra co-coach Ben Ricardo said his team was building a strong foundation ahead of next month's finals.
"Stoked to secure a finals' spot and get some reward for our efforts this season," Ricardo told the Voice.
"We really feel we are building nicely this season and are very keen to go deep in finals."
Chasing 189 for victory on day two, the Cobras rolled Barwon Heads for only 97 from 55.4 overs.
Collendina gun all-rounder Andy Higgins made a stunning return in his first A Grade appearance this season and finished with figures of 2/23 from 13 overs.
Experienced new ball bowlers Charlie Lamb, who claimed 3/38 from 20 overs, and Jye Hearps, who took 3/32 from 22.4 overs, helped guided their side to victory.
"Charlie (Lamb), Jye (Hearps), Higgo (Andy Higgins) were all brilliant and Higgins' spell just before the tea break really turned the game in our favour," Ricardo said.
On day one, Collendina made a stunning recovery from 4/37 thanks to a vital innings from Nathan Walter (72).
Walter and James Rock (40) shared in a crucial 105-run fifth-wicket partnership stand to leave the visitors in a competitive position midway through day one.
Tailender Lamb hit 25 late in the innings as the Cobras were all out for 188 from 72.4 overs.
"To end up with 188 after a poor start was really pleasing," he said.
Collendina now faces a perfect test to prepare for A Grade finals with a two-day game against ladder leader Portarlington at Portarlington on Saturday 20 February to end its regular season.
A TIMELY half-century from Collendina B Grade opener Cameron Kavailiunas (61) was not enough for the Cobras to score victory in their two-day game at home against Barwon Heads.
Collendina, which won toss and batted first, was bowled out for 164 from 56.4 overs on day one. Barwon Heads finished at 8/168 in reply to claim victory by two wickets.
Dean Britt had an excellent game with the ball and finished with 4/49 from 19 overs and made 26 not out with the bat.
Fellow Cobra Dwayne Johnston chimed in with 37 and took 3/46 from 20 overs.
A CENTURY from Drysdale veteran and Hawk C Grade captain Rob Malcolm allowed his side to cruise to a 115-run two-day victory against Collendina. Malcolm's innings of 116 with the bat along with teammate Patrick Willis knock of 82 were the highlights from Drysdale's first day score of 7/268. In reply, Collendina could only manage 9/153 from its 60 overs. Cobra opener Daniel McManus faired best with the willow after he made 56.
IN D Grade games, Collendina 1 defeated St Leonards 1 by six wickets. Batting first the home side 9/102 from its 40 overs, in reply the Cobras made 4/104 from 29 overs and won 11 overs to spare.
COLLENDINA 2 cruised to a six-wicket win over St Leonards 2.