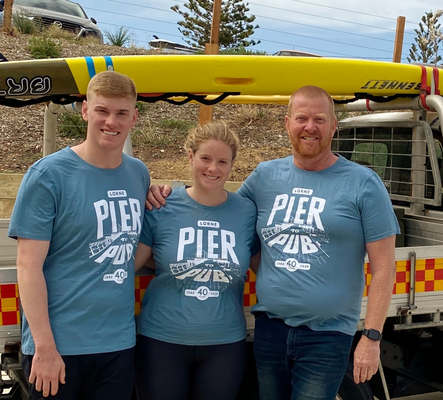 By Mark Heenan
The 40th anniversary of Lorne's iconic Pier to Pub Ocean Open Water Swim took on special significance for the Sampson family on Saturday, January 11.
Father Bruce Sampson, daughter Caitie, 21, and son James, 18, all Ocean Grove SLSC surf patrol members, took part in the 1.2 kilometre swim, which is the largest open water swim in the world.
Youngest James was the first Sampson across the finish line in 15:35, while Caitie finished in 17:47 and Bruce came in a time of 19:54.
Bruce said eldest daughter Bec, 25, was unable to compete in this month's Pier to Pub due to her work in Sydney.
"We have been doing the swim as a family for about eight or nine years," Bruce said.
"Usually (we) have Bec as well but she had work back in Sydney, so couldn't make it.
"Would have been her (Bec's) 10th year."
Bruce said wife Libby Sampson was part of the support crew.
In other developments, Hayden Cotter (10:55) won his third Pier to Pub title in a row, while Olympic swimmer Mack Horton (10:59) finished second for the fourth time at the prestigious event.
Queenslander Lani Pallister (11:49) scored a hat-trick of wins after she finished ahead of runner-up Harriet Brown (11:51), a former Ocean Grove SLSC competitor and a Pier to Pub six-time winner.
Mark Heenan