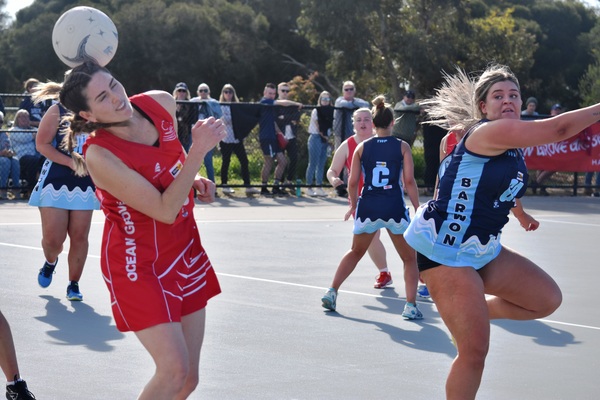 By Mark Heenan
Six Ocean Grove junior and netball teams have advanced through to Bellarine Football Netball League grand finals at Spring Creek Reserve at Torquay this Saturday 14 September.
The Under 19s Grubbers' football team will also play in a Division Two grand final against Barwon Heads at Torquay on Saturday after beating Geelong Amateur in its second semi-final on 31 August.
Four Ocean Grove netball sides including C and D Grades, 17/Under Section 2 and13/Under Section 2 all earned a week off and progressed through to season deciders after winning finals on 31 August.
The Grubber E Grade and 15/Under Section 2 teams were the last remaining local sides to win their preliminary finals, while the Ocean Grove 19/Under and 17/Under Section 1 teams bowed out after losses to Barwon Heads on Saturday.
Ocean Grove Football Netball Club director of netball Famie Needham said there was enormous satisfaction to have six teams make grand finals.
"We are extremely proud," Needham said.
"Bad luck to the girls who missed out, close games."
Grubber senior netball coach Elyse Howard was pleased to see so many local sides in grand finals.
"So proud to see the girls make the grand finals," Howard said.
"We have great coaches over the grades and they can all the way without a doubt."
OGFNC junior netball coordinator Kylie Jeffrey said the Grubbers' extra time thrilling win in the 17/Under Section 2 second semi-final at Portarlington on 31 August was a major highlight.
Scores were level at 20-all as the fast finishing Coutas stormed home at the end of regular time.
Final scores Ocean Grove 28 defeated Queenscliff 25 in extra time.
"So proud of the 17/Under 2s for their hard-fought win in extra time and very physical game against Queenscliff," Jeffrey said.
THE Bellarine Football Netball League grand final day commences with Ocean Grove's 13/Under Section 2 season decider against Drysdale at 8:30am this Saturday.
The Grubbers' 15/Under Section 2 grand final against Geelong Amateur also starts at 8:30am, the D Grade decider between Ocean Grove and Geelong Amateur commences at 11:15am and Ocean Grove's C Grade grand final against Drysdale begins at 12:15pm.
IN other Grubber netball grand finals, Ocean Grove 17/Under Section 2 plays Geelong Amateur at 1:30pm, while the Battle of the Bridge E Grade season decider between Barwon Heads and Ocean Grove commences at 2:30pm.
OCEAN Grove will meet Barwon Heads which defeated Geelong Amateur in the preliminary final, in the Under 19s Division Two football grand final.
The Under 19s decider starts at 9:15am at McCartney Oval.