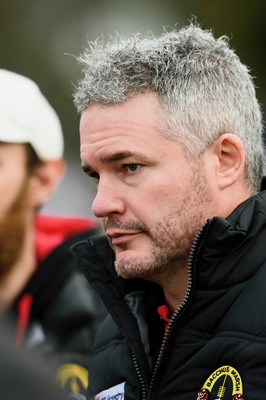 By Mark Heenan
New Ocean Grove Football Club coach Pete Davey said he is rapt with his senior role at Shell Road for 2020.
The Grubbers appointed Davey, a non-playing coach, on Tuesday 3 September.
The dual premiership coach has an impressive CV, he led Banyule to a Northern Football League flag in 2017 and Woden to an AFL Canberra premiership in 2015.
Davey based in Leopold, coached Bacchus Marsh for one season in the Ballarat Football League in 2019.
It is understood Davey was a contender for the vacant senior coaching role at Ocean Grove at the end of 2018 when the club opted to select Jordan Jones as its senior playing coach for 2019.
At the time Davey had relocated from Melbourne to the Bellarine at Leopold last year with his young family.
Davey who had links to the Grubbers with a mentor and his former coach, told the Voice the timing was ideal after he stood down at Bacchus Marsh last month in August.
"A former coach of mine who has become a mentor (Garry Ramsay) has strong family connections at the football club when I relocated to Leopold from Melbourne last year," he said.
"He organised a meeting and I was really impressed when I had the opportunity to meet with Pete Smith (OGFNC president) and Tony Potter.
"It wasn't until three weeks ago that I was contacted by Pete Smith, fortuitously it came a few days after I resigned from my role at Bacchus Marsh.
"My in-laws live a few minutes from the club (at OGFNC), so it's a really great fit from a family perspective as well."
The Grubbers were excited by the appointment of Davey as their new senior coach.
"Pete has a genuine passion and enthusiasm for coaching, and we welcome him, his wife Emily and kids Noah and Georgia to the club," Ocean Grove Football Netball Club said in a statement.
MEANTIME David King, who was the Grubbers senior caretaker coach for the last six rounds of 2019 after Jordan Jones was removed after only 12 rounds, will stay on as an senior assistant coach for next season.
"In addition to Pete's appointment, we are also pleased to advise that David King will remain with the club as senior assistant coach," OGFNC said in a statement.
"Kinga did an incredible job taking on the interim coaching role in difficult circumstances.
"He impressed all at the club with his approach and professionalism, and has agreed to this important role which also fits in with his work commitments.
"We are excited about the knowledge and passion that both Pete and Dave will bring to the club as we look to work our way back up the ladder in 2020."