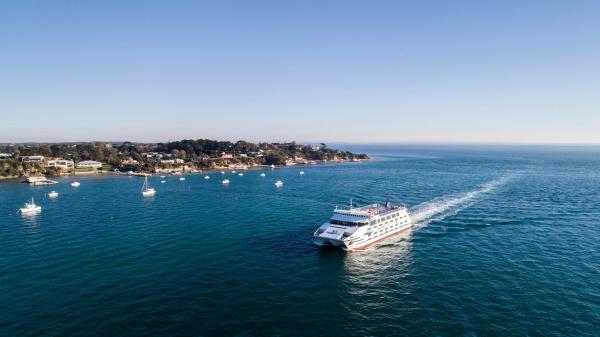 By Justin Flynn
Member for Bellarine Lisa Neville has labelled Western Victoria MP Bev McArthur's accusation about a lack of control at checkpoints between Melbourne and the Bellarine Peninsula as "really disappointing".
Ms McArthur said she was "reliably informed" by several workers who are travelling on the Searoad Ferries Sorrento to Queenscliff service, that they have not been subject to any checks.
The Sorrento to Queenscliff ferry service is a major gateway to the Bellarine Peninsula. Sorrento is part of greater Melbourne's COVID-19 restrictions, but the Bellarine is not.
"The state government seems to be saying one thing and doing another," Ms McArthur said.
"If we're going to do 'border' controls between different parts of the state, either do it properly or don't do it all and save all the time, taxpayer money and resources. Ms Neville's police force might well be better off ensuring that hotel quarantine is up to scratch.
"It's simply not good enough for an obvious method of travel from one part of the state to another, like the Sorrento–Queenscliff Ferry, to be open slather if the state government is claiming that travel is not permitted in and out of restricted areas."
"Lisa Neville needs to come clean about what sort of a checking process her department is operating, especially in her own electorate."
Ms Neville hit back at the comments, saying Ms McArthur should apologise to the police force.
"It's really disappointing Bev McArthur is choosing to attack our hardworking police," she said.
"They're doing an incredible job conducting spot checks around Geelong and the Bellarine every single day and as always, I thank them for their efforts.
"They're out in full force with increased patrols monitoring entry points to Geelong including train carriages, train stations and ferry terminals, as well as public transport departing from Southern Cross station. They're also on our local roads and out in the Queenscliff community on foot making sure people are abiding by the directions of the Chief Health Officer.
"Police have been actively checking passengers at the Sorrento to Queenscliff ferry terminals and they've been doing a great job. Bev McArthur should apologise to them for trying to suggest otherwise."
Searoad Ferries CEO Matt McDonald said the number of people entering regional Victoria via the ferry service "would be well less than 1% of those entering via the road network".
"Over the past two weeks, travellers on the ferries have been subject to extensive police operations, with the majority of ferry departures at Sorrento having 100% of passengers checked through a police checkpoint," he said.
"I travel on the ferry each morning and have been inspected every day this week.
Beyond the police checkpoints in place, all travellers on the ferry must provide contact details, vehicle registrations and abide by social distancing and our conditions of travel.
"We have spent significant time and money on training our staff, sanitisation, signage and new procedures in order to provide a safe environment for our staff and passengers."
On Friday, the Voice asked Ms McArthur if she stood by her comments, but we had not received a response by the time we went to print.