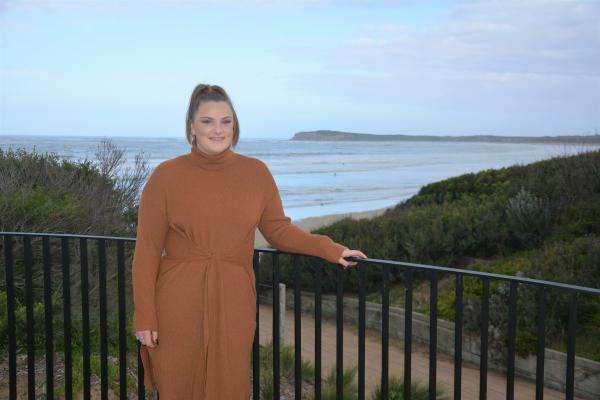 By Justin Flynn
After experiencing sexual assault and a near-death experience, Dusty Evans is now in a better place and wants others to know that it's OK to ask for help.
The 23-year-old Ocean Grover was sexually assaulted in 2018 and then developed septicaemia, a potentially fatal condition where bacteria enters the bloodstream and causes blood poisoning.
She was in a coma for three days and spent 11 days in hospital.
"I thought I was going to die, I was so scared," she says.
However, the experience had some silver linings.
Weighing 145 kilograms when she was admitted to hospital, Dusty left 15kg lighter and has since gone on to lose another 25kg through diet and exercise.
"I was eating junk food every day, I'd eat a salad once a month and four cans of soft drink a day," she says.
"It's amazing, and also kind of heartbreaking, that something so serious created a change for me, but I am so grateful that it came when it did."
Not long after the sexual assault, Dusty said she was abusing painkillers and sleeping pills to get by.
"I had five weeks off work and lost my s*** a bit," she says.
"It got to a point where I was at the threshold of, well, things are going to change or they are going to keep getting worse."
She checked herself into a rehab centre for mental health and said it was "the best thing I have ever done".
"I came out with methods to help when I was having an anxiety attack or a panic attack," she says.
"Instantly the pressure lifted and it wasn't all for me to deal with anymore."
Nowadays, Dusty is trying to spread the word that it's OK to ask for help.
She started an Instagram blog called 'Dust off Your Mind' which discusses topics such as mental and physical health to recipes for nutritious food.
The blog has reached as far as Houston, Texas, where a police officer read the blog, printed it out and posted it around her office as motivation and inspiration. The officer had worked in the sexual assault unit, but stepped aside because it was too much.
"That sort of thing doesn't just make your day, it can make your year," Dusty says.
"I just wanted one person to say 'this has helped me'.
"I'm such an open book now, I will talk about anything and everything.
"We put so much pressure on ourselves to be OK all the time and that's why we need to embrace the fact that we are all imperfectly perfect and we all have our flaws and struggles."
Now, Dusty is in a better place mentally and physically, but is aware that many others are not.
"Don't hide away from it and don't be scared to say 'things aren't OK'," she says.
"I'm here. My inbox is always open. My phone is always on. I'm always up for a hard discussion.
"I would rather speak to you now rather than when it's too late."