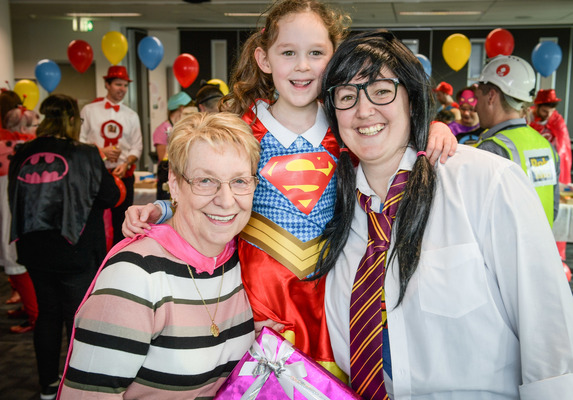 An Ocean Grove mum's own mother will be her "last resort" without a better blood marrow donor materialising before cancer treatment next month.
Allison Daly is preparing for Sandra's half-match marrow in a bid to prevent her rare cancer turning acute.
A worldwide search of 30 million potential donors has yet to find a better match.
Allison's leukaemia myelofibrosis could claim her life within four years without successful treatment.
She will undergo the transplant on 23 August.
The illness forced Allison to finish her job at the TAC in Geelong earlier this month.
This week former colleagues responded, dressing as superheroes in support as the TAC encouraged participants to become bone marrow donors.
The support touched Allison deeply.
"The most beautiful souls work here and I truly believe that and the management at TAC really do follow what they say," she said.
"They say they care for lives and they really do, not just the people that we don't know but the people who work here."
Allison welcomed the support but was concerned about the impact of her illness on five-year-old daughter Darci.
"She's doing okay," Allison said.
"She's learning that Mumma is sick and mum's blood is not working properly but, thankfully, other than that she's as completely oblivious as a five-year-old should be."
Sandra praised Allison's spirit.
"It's been so hard for her to be told she's only got three to four years to live unless they find a bone marrow match but she's got a little girl who's five," Sandra said.
"It's been a struggle for her emotionally apart from the fact that she gets very tired because it's in her blood.
"But she's a fighter and she's a positive person and I think her generous spirit and the fact that she's positive will get her through.
"I'm only a 50 per cent match but they haven't found a better match than me.
"Allison's between a rock and a hard place. If she doesn't go with this transplant she's only got as few as three years or her disease will get gradually worse and worse, so what's the choice.
"If she waits too long then it can manifest itself into acute leukaemia and then they can do nothing for her, so she really doesn't have a choice of waiting because in the last 12 months she has deteriorated."
Donations to assist Allison are being accepted online at gofundme.com/allisondaly.