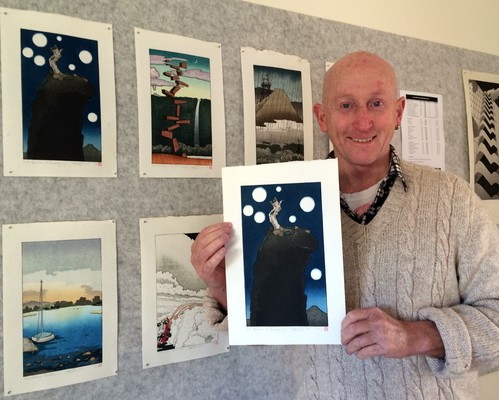 Two of Ocean Grove printmaker Terry McKenna's woodblock prints have been selected to be part of an international Mokuhanga exhibition to be held this September in Hawaii.
Mokuhanga is the traditional Japanese woodblock printing technique as seen in the famous 'Great Wave' by Hokusai.
The exhibition features work by a panel of experts and includes artists from Japan, Europe, America, Australia, and several other countries.
McKenna studied the technique while living in Kyoto, Japan, for several years and after returning to Australia began teaching the method. Printed by hand, only nontoxic materials and hand tools are used to produce the prints, McKenna's works in the exhibition took more than 20 highly accurate impressions to create, using the traditional technique.
The two prints selected are part of his 'Ballarat Hakkei' or Eight Beautiful Views of Ballarat series, made while living there in the past two years.
"I'm very pleased to be included in this exhibition, it's an honour to be among other artists of this calibre, and exciting to think my work is reaching such a wide audience," Terry said.
Now happily based at Ocean Grove, he will continue to give workshops throughout Australia and have his studio open by appointment.