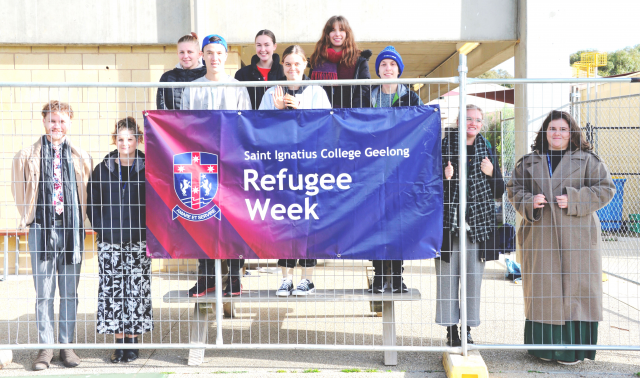 By Georgie Gill
Imagine if you were looking at the same four walls every day and leading a life of close to zero privacy and had no say in what you consumed or participated in.
It's difficult for many of us to imagine as a lot of us live a privileged lifestyle.
During the final three days of Term 2, Saint Ignatius College Geelong delved into Refugee Week and gave students the opportunity to immerse themselves, albeit briefly, in the lives of those in refugee camps spread throughout the world.
The school-based activities included a three-day ration challenge, which involved consuming the diet offered to refugees in a particular camp.
There was also a Silent Protest for both staff and students who were silent for the entire day in solidarity with those who are voiceless.
Senior students were offered the opportunity to be involved in 'The Cage', where students stayed in a confined fenced-off area to replicate the experience of those in refugee camps.
Saint Ignatius College Geelong's Youth Minister Mentor Jarryd Atkinson was involved in the initiative coordinated by Elena Cole and the school's Social Justice Captain Erika Selvin.
Mr Atkinson joined the school around three years ago and has been actively involved in numerous school-based initiatives including participating in 'The Cage' last year. He described the list of Refugee Week activities organised by the school as "condensed" due to the short week and interruptions to the term".
Mr Atkinson spoke highly of the team of 10 students who he said "balanced their commitment to study and their commitment to the cage initiative."
"It was really good to have that small team of dedicated senior students come and engage throughout the day," he said.
Mr Atkinson said he chose to get involved for several reasons, including his personal love of "being at the service of others" and how he wants to "lead by example and show the students that the level of service, advocacy and accompaniment can be committed to everyday life".
"It was eye opening seeing the young leaders engage with the content and conversation," he said.
"It was really special to have classes throughout the college come down and engage with the cage throughout the day."
Mr Atkinson said it was powerful to see how much the senior student's views and responses matured throughout the day. He said the school's awareness and projection of Refugee Week was a "gentle refresher to a real-world problem".
"In an ideal world I would love to see all the Geelong Catholic, Christian and public schools host Refugee Week events," he said.