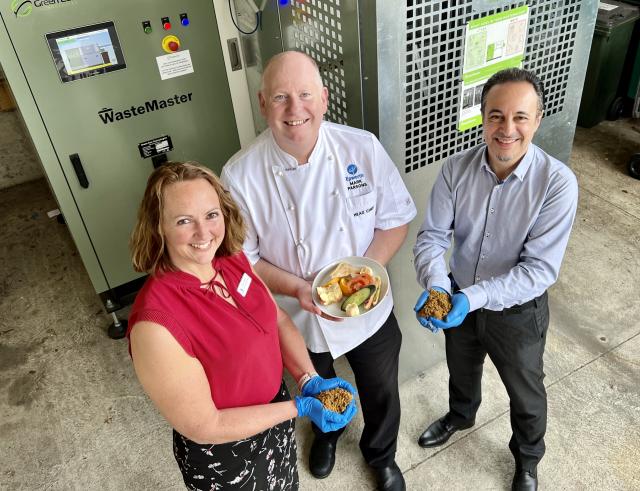 Epworth Geelong has implemented a new system to convert its tonnes of food waste into compost, with long term plans to use the waste to generate electricity.
Thanks to the support of the Percy Baxter Charitable Trust, the hospital has installed a Wastemaster food waste dehydrator, which converts and compacts food waste into a much-smaller amount of reusable material.
The Wastemaster dehydrator removes water from a broad range of food waste, reducing it to a powdery, high-nutrient residue.
Epworth Geelong executive general manager Leonie Lloyd said the Wastemaster, which is already processing about 150kg of food waste a day, was an example of the hospital's commitment to sustainable practices.
"We completed an independent sustainability audit at Epworth Geelong, which found one of the biggest contributors to our carbon emissions was food waste from the kitchen," Ms Lloyd said.
"Previously, tens of thousands of kilograms of food offcuts were being taken from the kitchen at Epworth Geelong to landfill."
Epworth HealthCare Group sustainability manager Simon Mikedis said the residue will be used in nutrient-rich compost created at a City of Greater Geelong facility.
"The compost will be used in local parks and reserves, so it's a win-win for Epworth and the City of Greater Geelong," Mr Mikedis said.
"Longer term, we will partner with an anaerobic facility so food waste residue can produce electricity to power homes."
Epworth Richmond became the first hospital in Victoria to install a Wastemaster system last year, converting more than 36,000 kilograms of kitchen waste from Epworth Richmond to residue in its first year of operation.
The residue was used to create enough electricity to power five homes for an entire year.
"In three years, the Wastemaster at Epworth Richmond has prevented 135 tonnes of food waste going to landfill, cutting greenhouse gas emissions by 224 tonnes," Mr Mikedis said.