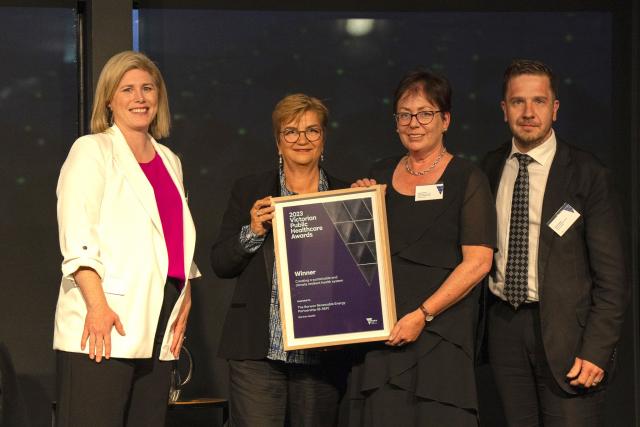 Barwon Health received acknowledgement for its recent renewable energy partnership at the Victorian Public Healthcare Awards (VPHA) last week.
The Barwon Renewable Energy Partnership (B-REP), which consists of Barwon Health, Barwon Water and GeelongPort, won the VPHA award for 'Creating a sustainable and climate resilient health system' for its efforts toward net zero and using 100 per cent renewable electricity.
In August last year B-REP entered into a 10-year power purchase agreement with the Mount Gellibrand Wind Farm near Birregurra, which will deliver 68 gigawatt hours of renewable energy every year.
The VPHA award follows the Institute of Public Administration leadership award the partnership won for the Climate Change Adaptation and Mitigation category in June this year.
Barwon Health chief executive Frances Diver said the award was fantastic recognition for an innovative example of public sector collaboration to support the region's transition to renewable energy.
"Hospitals and health services consume a large amount of energy, and we believe agreements like this can significantly reduce carbon footprints and help our communities become more sustainable and healthier," she said.
"At Barwon Health, we recognise climate change is an issue that demands action and there is a direct link between the wellbeing of our environment and the health of Victorians, especially those who are most vulnerable.
"We're proud to partner with Barwon Water and GeelongPort on this long-term arrangement, and we thank the Victorian Public Healthcare Awards for recognising the significance of this partnership."
Barwon Health was also a finalist in the Excellence in Aboriginal Health and Wellbeing category for an innovative project to improve early detection and intervention of ear problems for Aboriginal infants in the Geelong region, in partnership with the Wathaurong Aboriginal Co-operative.