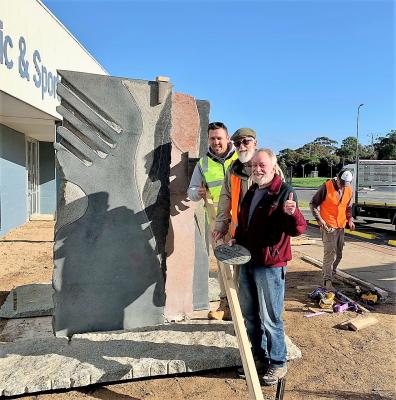 By Justin Flynn
A sculpture donated to the community by Rotary Club of Ocean Grove in 1993 has finally found a new home.
The sculpture, Encounters, created by local artist Noel Essex, was installed at the Surfside Centre in June 1993 to coincide with the opening of the original Surfside Sports Centre on Shell Road, Ocean Grove.
The art piece, incorporating three standing sculptured granite blocks, mounted over a water sump from which water was reticulated over the blocks, stood beside the main public entry to the centre.
Ocean Grove Rotary presented the sculpture to the citizens of the then Bellarine Rural City Council, with the sculpture later becoming the property of City of Greater Geelong.
In 2010 the sculpture was put into storage when CoGG installed car parking and a footpath alignment in its place.
The stone components of the sculpture have been stored at a number of locations for safekeeping.
After an 11-year wait, in October last year Barwon Coast nominated a suitable site for the sculpture at 14W near the lookout in Ocean Grove.
However, early this year the site was vetoed by the Department of Water, Environment, Land and Planning.
A site was then found at Bellarine Sports and Aquatic Centre, where the sculpture was unveiled on May 14.
Rotarian Gordon King spearheaded the campaign to find a new home for the sculpture and said it was with "great relief and joy" to see the sculpture at a permanent home.
"It's in a good location and just 20 metres away from where it was originally."