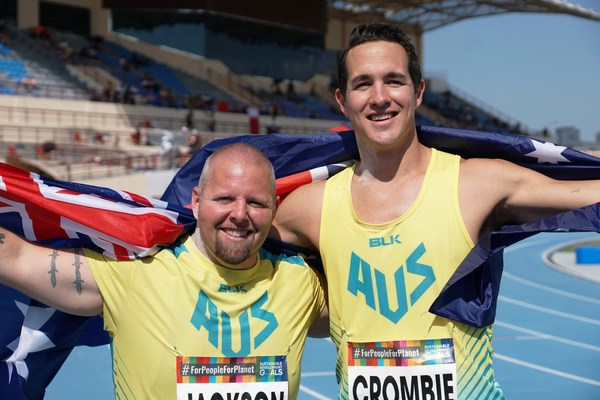 By Justin Flynn
Fresh from a bronze medal at the World Para Athletics Championships in Dubai, Marty Jackson has his sights set on the Tokyo Olympics.
Jackson, 41, threw a personal best in the F38 shot put to clinch a bronze medal, while his good friend Cam Crombie took out the gold.
It's another stunning chapter in Jackson's sporting profile.
He has representative honours with Geelong Buccaneers American football club and is a member of the club's 'Ring of Champions'. Jackson has also represented Australia in para ice hockey in Finland and his shot put record is outstanding.
However, it's not shot put that Jackson will turn his attention to.
The F38 shot put event will not feature in Tokyo. Instead Jackson and Crombie will try to make the games via the javelin.
Jackson sustained a freak leg injury while playing for the Buccaneers which left him with sensory ataxia/loss of proprioception and partial paralysis lower left leg.
"Looking forward to Tokyo, but I will need to make the transition to javelin," Jackson told the Voice.
"Unfortunately the men's F38 shot put has not been included as a medal event. While the transition to jav will be difficult and the task of making next year's team is huge, I just can't sit on the couch watching my teammates knowing that I didn't have a red hot crack."
Jackson's training regime and attitude to overcoming adversity is well known among his peers.
"With three fellow Aussies already ahead of me in Jayden Sawyer, Cam Crombie and the newly crowned world champion and world record holder, Corey Anderson, the job of making the team will be an uphill battle," he said.
"The boys know how hard I work so at the very least I will push the boys to work harder and see Australia rewarded come Tokyo next year."
But for now, the bronze medal moment will be something to savour for a while yet.
"This world championship bronze means the world to me," he said.
"It's reward for commitment and hard work. Most of all it's reward for self-belief."
Going into the final round of the event, Jackson was in fourth place and knew he had to dig deep.
"It was all or nothing – I knew I had done the work and truly trusted and believed in everything my coach, John Eden and I had worked on.," he said.
"My fourth round throw saw me pop out a huge PB of 15.14m (76cm better than anything he had thrown before).
"This World Championship Bronze is definitely my biggest sporting achievement by far."