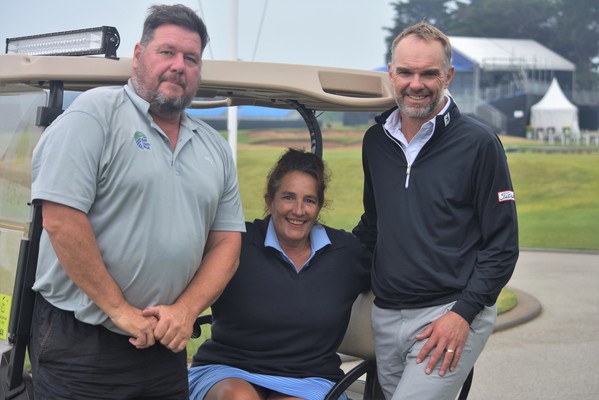 By Mark Heenan
Ocean Grove-based golfers David Smith and Sally Schaller got some handy tips from the 2016 Vic Open men's champion Michael Long at the Pro-Am event last week.
Smith, Ocean Grove Golf Club Captain, and fellow club golfer Schaller teamed up with Long at the 2019 ISPS Handa Vic Open Pro-Am at nearby Thirteenth Beach Golf Links Creek Course on Tuesday 5 February.
Both Smith and Schaller represented the South West Golf Association (SWGA) qualified for the Pro-Am after they won SWGA based lead up event competitions.
"This is the third time (I have played in a Pro-Am) and this year we had to win to get in," Schaller said.
New Zealand-raised Long complimented the local club golfers on their performance, which played in a team of four alongside Martin Pederson from Cranbourne Golf Club.
"They (David and Sally) were great," said Long, who now lives in Western Australia.
"Sally held the team up and was very encouraging, she really held us together and David he popped up now and then.
"They pulled their weight and it was a fun day.
"I anointed her (Sally) as captain."
Schaller said it was a new experience to play with a male professional golfer.
"It was good playing with Michael – this is the first time I had played with a male pro," she said.
"It was actually a bit nervous about that – he was awesome and really good fun.
"So it was fabulous."
Long had fond memories of Thirteenth Beach Golf Links prior to his Vic Open title win.
"A couple of years before I actually won I really enjoyed playing the golf course, I like the feel, it kind of reminds me like a little bit of a golf course in New Zealand," he said.
Three years ago, he won the event after a dramatic playoff victory against playing partner Matthew Millar.
Long, 50, said he enjoyed the picturesque Barwon Heads and Ocean Grove surrounds.
"I stayed down at Ocean Grove a few times – I am staying on the course this year," Long told the Voice.
"Look it is just great fun.
"The main street in Ocean Grove with all the pizzas and pizza shop which the boys go to quite often and (also) the coffee shops.
"It just has a nice seaside feel."