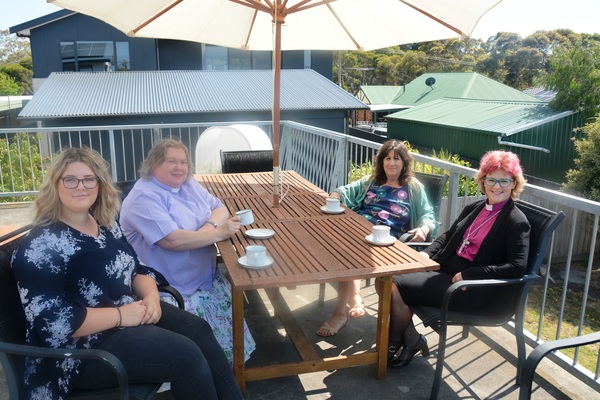 Ocean Grove's home away from home for young women completing VCE was visited by the Anglican Bishop for the Geelong region.
Last Thursday, Bishop Kate Prowd toured Debbie's Place, which provides accommodation and support for three teenage girls from the Bellarine who are at risk of not completing their VCE satisfactorily, or not at all, due to short or long-term housing instability.
Residents are supported daily by two live-in adults and a team of dedicated volunteers.
Debbie's Place offers a stable and supportive living environment with volunteer tutors and study groups.
A management committee comprising representatives of Korus Connect, the Anglican Church and other Bellarine Christian Churches oversees the house.
Bishop Prowd met the live-in house administrator and one of the residents, and blessed the house.
"I'm very aware of how difficult life can be for women who find themselves without secure housing," she said.
"I'm delighted that our local churches in Ocean Grove have taken the initiative of establishing Debbie's Place to provide a safe supported home environment in which young women can live while they finish their schooling."
The house is named in honour of Geelong Grammar teacher, Commonwealth Games gold medalist and rowing coach Debbie Clingeleffer-Woodford who died unexpectedly.
Her husband and daughter offered what was their family home in Ocean Grove to support girls struggling to get through the routine and demands of the final two years of secondary schooling.
For more information about Debbie's Place or to make a contribution, visit: debbiesplacebellarine.com.au.