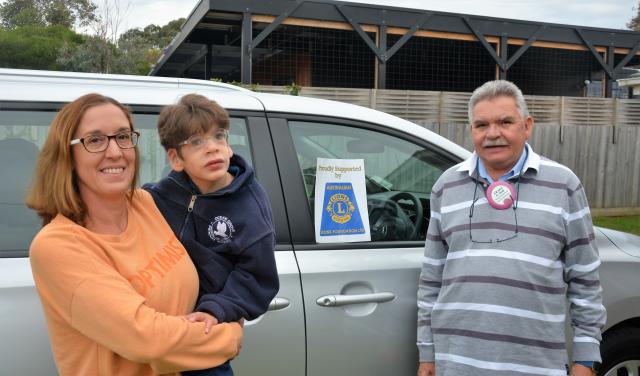 By Justin Flynn
With the help of a generous local community, Emma Falzon finally has her wheels after a long campaign to fit out a specially made vehicle to make day to day life a bit easier.
Emma, 7, has cerebral palsy and epilepsy and was given a wheelchair through the NDIS but still needed her mother, Sarah Fuller, to lift her in and out of the chair and into the car each time she goes to school and to appointments.
The NDIS is able to modify certain cars to allow wheelchair users to travel in their chair, but Sarah's old car was not suitable.
The NDIS said it would pay for the required work to modify a car, but was not able to help with the costs of the car.
That's where Ocean Grove and the surrounding communities stepped in.
Sarah's friends launched a GoFundMe fundraiser to help cover the cost of a new car, which was valued at around $50,000.
Ocean Grove Barwon Heads Lions Club also donated $8000, Australian Lions Foundation chipped in $8000 and Apco Foundation contributed $5000.
Throw in some generous donations from the community and Sarah was able to buy the car and is waiting for the NDIS to fit it out.
"We are still waiting for it to be modified but it's much easier to get Emma into and out of the car," Sarah said.
"I don't have to pull the wheelchair apart to put it into the car or get it out, so it's made a huge difference so far.
"She's a lot happier in the car, she can see out of it better and she can reach the windows so she likes putting fingerprints everywhere and can see her sister (Kasey) a bit better.
"I can't thank everyone enough. We're just so proud to be a part of this community and so grateful to everyone who shared and contributed and helped us out.
"We're eternally grateful and hopefully we will be able to pay it forward one day."
Ocean Grove Barwon Heads Lions Club president Grant Hull said his organisation was more than happy to help.
"We initially donated an amount of money and came up short so we went for a contribution from the Australian Lions Foundation and they came good," he said.
"It's going to make a difference to at least three lives, maybe more."