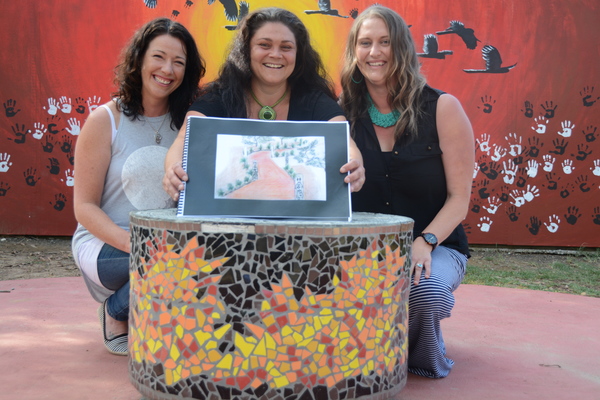 By LUKE VOOGT
SURFSIDE Primary School's Djarreeyn Learning Area is beginning to take shape, as the parents behind the project continue their efforts.
One of the parents, Nicole Garnaut, said the Indigenous learning area will include a range of native plants used by Aboriginals as herbs or medicine.
"We want the kids to be able to walk though and identify those plants and learn what they were used for," she said.
"We've put together a book of the design of the garden, all of the plants and their Indigenous uses."
Earlier this month, Nicole completed the project's newest addition – a mosaic "fire pit".
"Because they can't have fire in school," she said.
Her group is busy getting the area ready for 200 plants, which Bellarine Landcare will provide on National Tree Day in June.
"We are looking for donations of cement mix, horse, cow and chicken manure, and worm juice or castings," Nicole said.
The project began as an alternative for students not participating in religious education.
"We proposed Indigenous studies as something they could do instead," Nicole said.
The group began work on the Djarreeyn Learning Area early last year, after consulting local Wathaurong elder Uncle Dave Tournier.
Nicole and fellow parent Abbey Roe completed a mural for the project last September.
Surfside Primary students left paint handprints on the mural as school concluded last year, which the school's Preps and other new students added to yesterday.