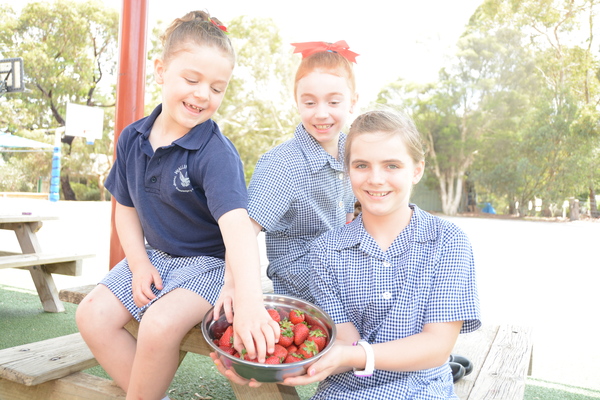 FOR Wallington Primary students and sisters, Jessica, Emilia and Briella Considine, the school's Strawberry Fair has long been a part of their family.
Their grandparents Margaret and Hector Gillies were on the organising committee for the very first fair, when their mother Stacey was a student there.
"When he was very young," Briella. "He's old now."
Committee member Tracey Frigo said the fair was the oldest of its kind in the Bellarine and Tracey said its tried and tested formula has made it popular for more than 30 years.
"It's just a good old-fashioned country fair," she said. "The 100 families who attend the school put on one of the biggest school fairs in the region."
It's strawberry picking season and the school is busy preparing for this year's fair. A talented line-up will perform on the main stage, including Andrea Roberston and Tayla Haigh, while magician Dazzling Dan will captivate youngsters.
Ex-Bellarine Secondary College student Jamie Pye will again perform, after recently getting into music at the University of Melbourne.
"He's very talented – one to watch I think," said Tracey.
Fair-goers can also enjoy rides, sporting displays, pony rides and, of course, strawberries. Food tents will whip up all sorts of gourmet delights, serving strawberries on pancakes, pavs, with cream and melted chocolate, and in home-made jams.
"The emphasis is on a fun family event where the community can come together," school principal Leigh McLaren said.
Strawberry growing in Wallington dates back to 1881, when travellers would often stop by at local gardens on their way to the coast. Today several farmers still grow strawberries in the town.
Kath Rahdon has three children at the school and is heading the auction team this year.
"We've been overwhelmed by support from local businesses so far," she said.
"We have lots of great items for people to win at the silent auction, the spinning wheel and the main auction, which takes place on the main stage."
The fair runs from 10am to 4pm, on 6 March, at the Wallington Primary School.
Gold coin donation for entry. No dogs permitted.