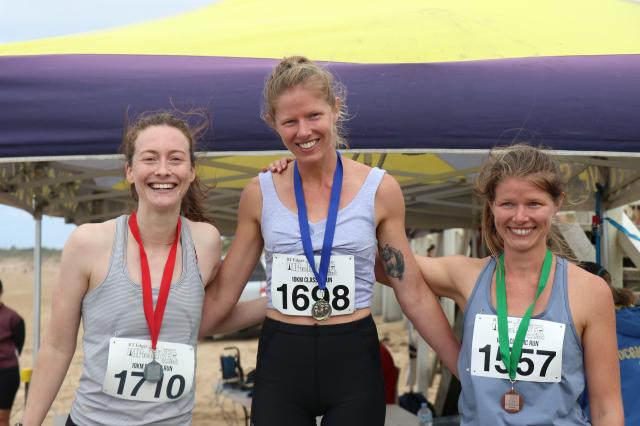 By Justin Flynn
Nick Wightman's reign as perennial Rip to River champion is over after two first-time winners crossed the finish line in first place in the men's and women's events.
Harry Smithers defeated seven-time champion Wightman in the 10km men's event in a time of 32:01 minutes while Amy Carrig won the women's race in 35:31.
The event is Ocean Grove Surf Life Saving Club's major fundraiser and around 700 competitors participated in the 10km, 5km and Nippers 1.4km races on December 27.
Administrator Anna McDonald said a strong south-easterly tailwind shaved off around three minutes from the average winning time.
"The event went very smoothly, although higher than expected winds made set-up challenging," she said.
"We were happy with that turnout, considering the uncertainty around COVID.
"As expected, we did have some no-shows due to people being required to isolate – both entrants and event volunteers.
"The event requires a volunteer team of about 100 members on the day, as well as months of preparation."
The 5km race belonged to two teenagers.
Tyler Murphy, 16, took out the Open Male category in the 5km Run with 17:35 minutes and
Niamh Partridge, also 16, was the Open Female winner in the 5km Run, with 21:29.
The 1.4km Ripper Nipper medals were awarded by age. Places were hotly contested and OGSLSC Nippers did very well.
"The accounting side of things has not yet been finalised, but these entry numbers generally equate to approximately $20k profit for the club, all of which goes towards our core business of keeping the beach safe," Ms McDonald said.
"OGSLSC would like to thank our major sponsor RT Edgar Bellarine and Hotondo Homes who sponsor the Ripper Nipper race."