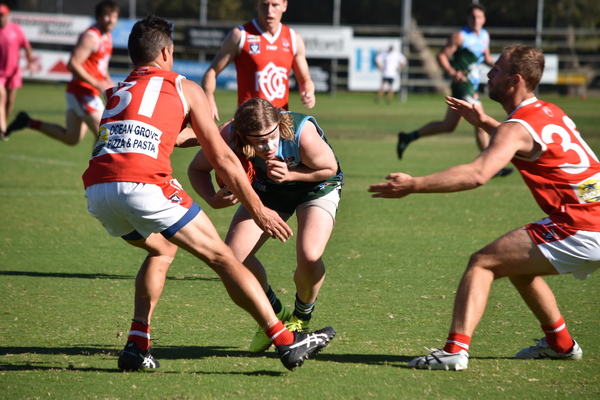 By Mark Heenan
Ocean Grove rolls into its Battle of the Bridge clash against Barwon Heads with confidence after it upstaged BFL powerhouse Geelong Amateur at Queens Park on 7 April.
Barwon Heads and second-placed Ocean Grove are the only two teams undefeated after two rounds.
Barwon Heads has a four-year dominant reign on the prized Battle of the Bridge honours.
The Seagulls have won its past seven games against Ocean Grove – the Grubbers last win over Barwon Heads was Round 14, 2014.
The Round 3 fixture this Saturday looms as a top-of-the-table showdown with ladder leader Barwon Heads the side to beat – according to Grubber coach Paul Lynch.
"Barwon Heads are not far off from being off from the being the benchmark side I reckon – they did not lose any (players in the off season) and they have topped up," Lynch told the Voice.
"They are a very good side.
"We will play them over there like we did last year – we did really well over there last year and I think there was only a couple of kicks in it.
"We certainly don't fear them – but we certainly have great respect for them."
ON Saturday the Grubbers 10-point victory over Geelong Amateur on Saturday was drought breaking – it was the club's first win at Queens Park against Geelong Amateur for six seasons since 2012.
It was two wins in a row for Ocean Grove against Amateur – last year the Grubbers broke a five year losing streak against Ammos at Ray Menzies Memorial Oval.
The Grubbers won 9.15 (69) to Geelong Amateur 8.11 (59).
The Round 2 fixture also capped off a landmark victory for the Ocean Grove A Grade netball team – recording its first win over Geelong Amateur at Queens Park since Round 12, 2013.
On the football field, dashing midfielder Jahd Anderson was brilliant and had numerous running bursts which helped Ocean Grove's inside forward 50 entries.
"I thought Jahd was fantastic – even if he makes a mistake he gets back up and defends really well and he typifies of what we are trying to do," Lynch said.
New recruit Luke Cartelli played in his first senior victory for the Grubbers and booted two goals.
Grubber sharpshooter Jake Carmody was a focal point up forward and finished with three goals.
Lynch praised his side's defence with the Grubbers conceding only eight goals against Amateur, the triple BFL premiers from 2014 to 2016 and last season's grand finalists.
In Round 1 Ocean Grove only gave away two goals against Portarlington.
"That is what we have worked on all pre-season – to become a good side defensively," he said.
"Our aim is to keep them under 10 goals every week."
Amateur fought the game out with a three-goal haul from power forward Mitch Day, who pinch hit in the ruck in the final term.
Trailing by 20 points at three quarter time, Amateur lifted its intensity in the dying moments though Ocean Grove held on in the final quarter to came away with a 10-point win.
Grubber captain James Linton is set to boost Ocean Grove's line-up in Round 3 with the champion on-baller to return after his suspension during last year's BFL finals series.
Geelong Amateur thrashed Ocean Grove by 145 points in the BFL reserves grade match.
Final scores Geelong Amateur 26.15 (171) defeated Ocean Grove 4.2 (26).
The home side kept the visitors scoreless in the opening term.
Grubber quartet Hamish Hoober, Seamus Cathcart, Michael Dodds and Harry Dodds all kicked one goal.
Winless Ocean Grove reserves grade remains in ninth place with a 0-2 record.
In the Under 19s grading game Ocean Grove went down by two points in a thriller against Geelong Amateur.
Final scores Geelong Amateur 4.8 (32) defeated Ocean Grove 4.6 (30).
This Saturday's senior match against Barwon Heads at Howard Harmer Oval starts at 2.10pm.
SENIORS SCOREBOARD
OCEAN GROVE 9.15 (69) d GEELONG AMATEUR 8.11 (59)
Ocean Grove
Goals: J. Carmody 3, L. Cartelli 2, P. Corredig, M. Lindkvist, N. Lynch, I. Wilkins.
Best: J. Anderson, J. Carmody, A. Jarvis, P. Maloney, J. Carey, L. Cartelli.