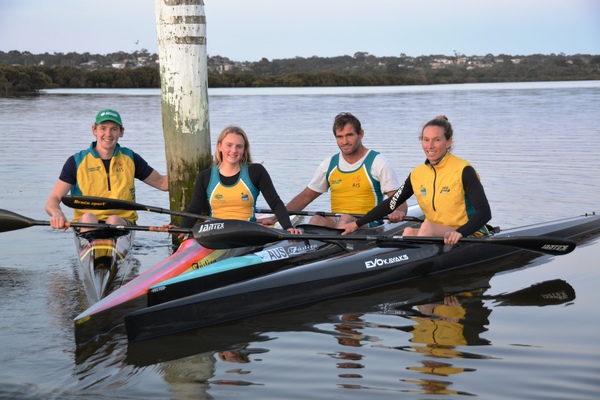 By Justin Flynn
Five Barwon Heads Canoe Club members have been selected to represent Australia at the upcoming Canoe Marathon World Championships in Shaoxing, China.
Mick and Kate Leverett, Brendan Clarke, Maddie Lamb and Seamus Spanner were all selected, although Spanner decided not to compete.
To put it into perspective, the Australian team will consist of about 12 members, a quarter of them made up by a small canoe club on the Bellarine Peninsula.
The husband-wife Leveretts are no strangers to world-class paddling.
Mick won bronze in the K1 at the World Championships in 2000 and silver in 2001, and is widely regarded as one of Australia's best paddlers throughout a decorated career.
Kate, also with a string of accomplishments, came fifth in the World Championships five years ago before having children.
By contrast, 18-year-old Ocean Grover Maddie Lamb will compete in her first overseas event and will partner with Emily O'Rourke in the Junior Women K2 event.
"It's a bit nerve wracking but it's going to be a really good experience," she told the Voice.
"We've done as much as we can now and we feel pretty prepared."
For Brendan Clarke, 22, it will be the Under 23 Men K1 and will also be his first overseas event.
"It's my first one and hopefully not the last," he said.
"It's good gruelling training and great coaching here.
"I hope I go well, but it's too hard to tell.
"I'll go in with a good attitude. You don't want to expect too much but you don't want to expect too little either."
Barwon Heads Canoe Club only has six members.
"We're a very small club," Mick Leverett said.
"We're competitive people really. We don't have social paddlers.
"We started the club to get surf kayakers into paddling and get them transitioning into flat water.
"We all work hard. We all train to be as fast as we can. It's a competitive squad."
Leverett said a top 10 finish at the World Championships was a "very good performance".
The squad spends around three hours per day doing some form of training.
The 2019 ICF Canoe Marathon World Championships will be held from 17 to 20 October.