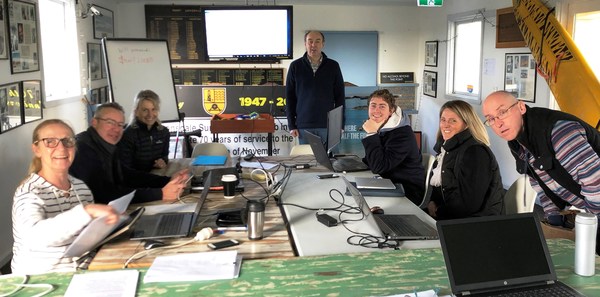 By Mark Heenan
Club president David Pavia is confident Ocean Grove Surf Life Saving Club can maintain its large membership presence this season despite no clubrooms on site.
Pavia conceded works on its multi-million building re-development would pose challenges for members with no clubroom access to Ocean Grove beach, one of Victoria's busiest and most popular surf beaches.
In the club's annual report for 2017/18, Ocean Grove SLSC increased its total membership base to 932 members up from 867 members from the previous season and 894 members in 2015/16.
The club had in excess of 300 junior activity members aged between 5-13 years and accumulated more than 200 general member sign ups in 2017/18.
"We expect similar membership numbers this season," Pavia told the Voice.
"The experience from other clubs that have undergone major rebuilds is that membership numbers may increase by up to 50 per cent in the years following a rebuild."
Pavia said while a new patrol tower is expected to be completed for OGSLSC's first summer surf patrols which commence on Saturday 1 December, the club faced significant hurdles without social club and bar facilities.
"The lack of a building over summer will create a number of challenges for OGSLSC although we are pretty confident that the patrol tower will be complete in time for the patrol season," Pavia said.
"We can use the tower as a first aid room and we have storage for patrol gear and so we can run fully operational patrols throughout the summer.
"Not having a social space is a challenge and we will be looking at a number of venues for social events.
"We are investigating a number of options for social events and may make use of our club tents more than ever."
Pavia said the club building re-development was still on track to be completed by April/May in 2019.
"The current works are progressing well with the patrol tower ground floor slab and first floor slab already poured," he said.
"The main building ground floor slab has been poured and the blockwork walls are going up quickly, I understand that the project is on target for a completion date of April/May 2019."
MEANTIME the Ocean Grove SLSC Management Committee for 2018/19 met for a planning day at the Point Lonsdale Surf Life Saving Club on Sunday 2 September.
It was the club's first official meeting with the management committee since the Ocean Grove SLSC annual general meeting last month.
The Voice met two of the new management committee members Simone White, social and lounge manager, and Ros Williamson, sponsorship and fundraising manager.
"It's great to welcome some new faces onto the committee this year," Pavia said.
"Each member of the committee brings an unique skillset with them and has a different insight into club operations.