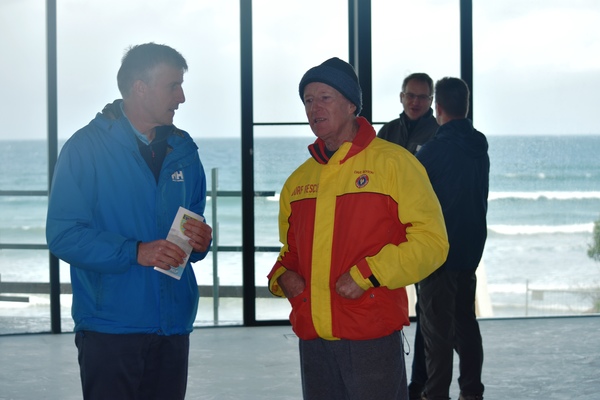 By Mark Heenan
Ocean Grove Surf Life Saving Club personnel, dignitaries and invested locals took a sneak peek inside the new surf complex building development on Saturday 4 May.
The one-hour clubhouse tour coincided with the club's public fundraising campaign to raise funds for furniture and equipment for the new building.
The state-of-the-art building is expected to open in the coming weeks and Ocean Grove SLSC is need of a further $300,000 to complete the full fit out of new Ocean Grove SLSC facilities.
Federal MP for Corangamite Sarah Henderson announced an additional $135,000 in funding towards new board and surf ski racks as part of club internal fit out if the current government is re-elected.
In March, Ocean Grove SLSC received up to $150,000 from the federal government to install a new kitchen and bar equipment facilities.
"This is incredibly important equipment to fit out that part of the surf club," Ms Henderson told the Voice.
"And it comes on top of the $1.15 million we have already provided for this wonderful club."
Ocean Grove SLSC president David Pavia said the federal funding for board and surf ski racks was welcomed with the club also in search of public donations for the building and its internal fit out.
"Despite the generosity of federal government and other levels of government we still need to furnish and equip the building – a lot of grants don't actually allow you to have transportable equipment," he said.
"So it is really hard to find a grant for a chair for example.
"So we are looking for the generosity of our supporters to come forward and make a donation."
Funding donations can be made via the Ocean Grove SLSC website at oceangroveslsc.asn.au/ or by contacting the office on 5255 1382.