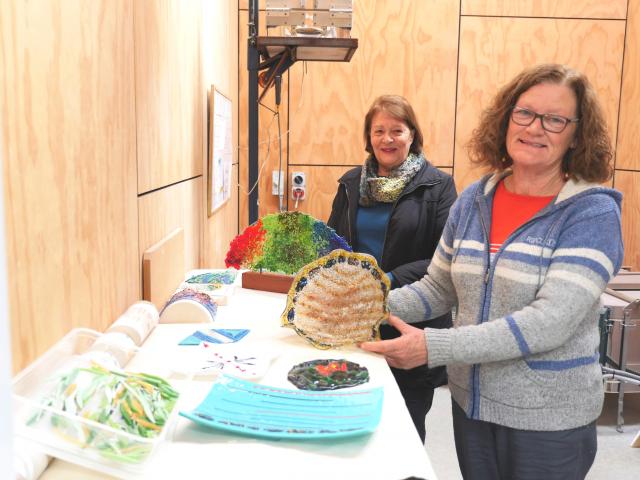 Local printmakers, glass, ceramic, textile and watercolour artists are excited to showcase their talents at this weekend's Surf Coast Arts Trail.
Anglesea Art House will host the artists as part of the arts trail's 10th year.
The Art House has been one of the trail's most-visited destinations over the past decade, with president and glass artist Jennifer O'Sullivan saying the event is a standout on the local creative calendar.
"It is a wonderful opportunity for members to showcase their skill set, display their work and be excited, like most artists, when someone chooses to purchase their artwork," she said.
"We've been involved with the Surf Coast Arts Trail since its inception 10 years ago, and are proud to welcome an exceptional attendance year after year, regardless of how wintry the weather is.
"We look forward to seeing lots of visitors on the trail weekend this year and will have the heaters on in the gallery and studio."
The 2022 Arts Trail will be held on August 6 and 7 with locals and visitors able to explore the diverse work of the thriving Surf Coast arts community.
More than 200 artists will feature across 60 venues spread throughout the hinterland and coast.
"We currently have 280 members and offer 14 sessions each week – eight of which are tutored and six of which are made up of members who get together to inspire each other in their creative endeavours," Ms O'Sullivan said.
"We will have at least 20 members participating in the Arts Trail at Anglesea Art House across the weekend, with work from about 65 others on display. There will be ongoing demonstrations from our printmakers, glass artists, ceramics, textiles and watercolour groups.
"We also have quite a few members opening their private studios."
For details on the Surf Coast Arts Trail and to plan your weekend, visit surfcoastartstrail.com.au and download the program, and follow @SurfCoastArtMatters on Facebook and Instagram.