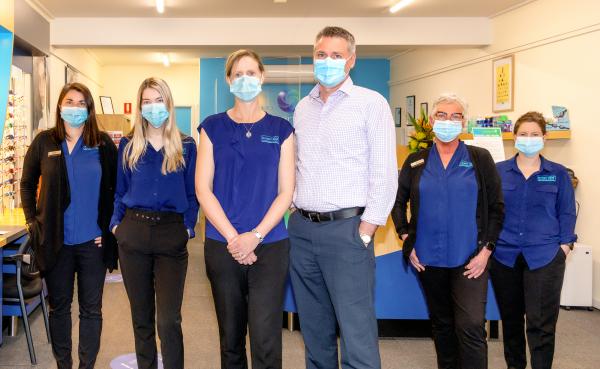 Carole Levy
Before optometrists Letitia and Anthony Dowling arrived in their much-loved Ocean Grove, they had offered their high standards of eye care to another regional community whose residents valued having a specialist eye care service 'in town'.
Nowadays, it's Ocean Grovers and Bellarine folk of all ages who get the benefits of their high-tech optometry business: Ocean Eyes Optometrists.
The optometry team of six brings a particular emphasis on eye health, with helpful advice offered on how to best meet their patients' visual needs and the maintenance of healthy eyes for life.
Along with routine eye care, Ocean Eyes Optometrists offers contact lenses, eyewear, frame repairs and adjustments, and children's and emergency eye care.
The team working alongside Anthony and Letitia include Kate, Pam, Natalie and Jessica, everyone focused on healthy eyes and great vision, as well as providing comfortable glasses… and super-friendly interaction with patients.
At cutting edge of eye care
Letitia says they invest in advanced technology to accurately identify and treat eye issues, such as dry eye, ARM, glaucoma, and diabetic retinopathy.
"In July this year, we received a new Optical Coherence Tomographer (OCT), a sophisticated scanning system that produces highly detailed images of the internal structures of the eye," explains Letitia. "It's similar to an ultrasound, allowing our optometrists to view 3D cross-sectional images of the retina, the innermost layers of your eyes … an OCT reveals what is below the surface.
"We've also recently upgraded our Optomap camera. Optomap ultra-widefield imaging is the only technology that can provide a wide view (up to 230 degrees) of the retina at one time.
"It's a quick and easy way to detect retinal problems … It reveals such issues as retinal holes, retinal detachments, diabetic retinopathy, and even cancers that may develop in the peripheral retina."
Covid and beyond
"We've been lucky, as an essential service, to stay open but we want to make sure eye care hasn't been forgotten or deferred.
"The pandemic has made some visual demands even harder, with a lot of people complaining of computer-related eye strain, fogging of glasses and sunglasses, and increased dry and uncomfortable eyes. We … can help in all these areas."
And looking ahead?
"We want to continue to grow as a trusted business. We want to continue to support our local community – a place we have been accepted into with open arms. And we look forward to the new technologies around the corner in our industry."
Ocean Eyes Optometrists, 2 Park Lane, Ocean Grove. Opens 9am-5.30pm Monday-Friday and 9am-1pm Saturday. Inquiries: 5255 5655 or 
www.oceaneyes.com.au